Due to the coronavirus pandemic, we, as organisers of the Design Month Graz, have decided to cancel the festival this year. The 12th edition of the festival, which should have taken place in Graz from 8 May to 7 June, is now being cancelled in view of the current state of emergency. Individual exhibitions and projects, which were already well advanced in their planning and preparation, will be presented in the Design Month Graz 2021. The same applies to the programme focus "Better Future", which has become even more relevant due to the current situation
We would like to thank all those who have been so intensively involved in the planning and development of the Design Month so far and are already looking forward to a good cooperation next year.
Design Month Graz bundles and condenses the energy of the local creative industries within one month, makes it visible to the outside world and thus makes a central contribution to anchoring the creative industries in people's consciousness. It provides a space for innovative projects – be it experimental or commercial – and thus heightens the perception of the meaning of design: it is not about purely decorative behaviors (design as styling), but about the economic relevance (design as development and value added process) as well as the transformational power of design in economy and society.
Numerous local partners are also involved in Design Month Graz. The term "design month" acts as an umbrella brand that assembles the individual activities under one uniform appearance, without jeopardizing their independence. The Creative Industries Styria coordinates and organizes the Designmonat Graz and spans a substantive and programmatic range from a variety of individual initiatives from designers to the large local design training institutions, thereby enabling synergies and cooperation between the creative industries and "classic" companies.
Review
Design Month Graz 2019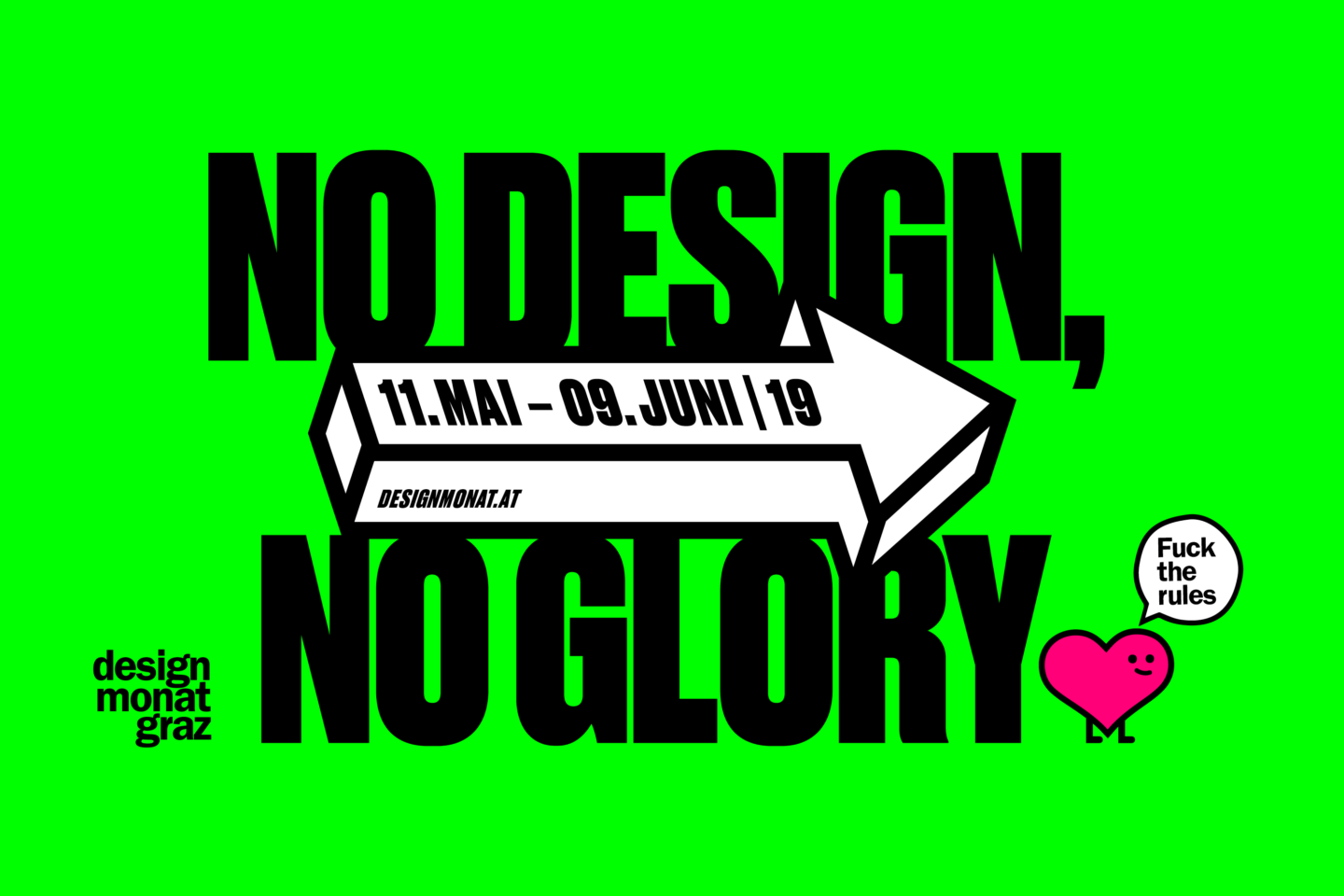 100,000 visitors attended the event, attracting a lot of international interest. 106 events with 101 partners from 24 nations brought the large spectrum of design and the internationality of the network to life.
Every year, the Design Month Graz shows the creative potential of the country. Once again, a wide variety of design aspects were bundled and woven into an exciting program: the UNESCO City of Design Istanbul partook as a guest at Design Month Graz and inspired design contributions on the Murinsel as well as in the designforum Steiermark and within the context of the exhibition "World Wide Things" at Neue Galerie Graz. The creative industry held an impressive visual aesthetic in the Design Month Graz participating in the city center with the cooperation with "Echt Graz" as well as in the "return" of the fashion festival assembly, which thrilled its numerous spectators.
In addition, the successful event "fifteen seconds" exceeded the expectations of Design Month Graz proving its commitment to a festival that sweeps far beyond the borders of the creative industry. "The vibrant network of the Creative Cities was noticeable in the Designmonat Graz", CIS Managing Director Eberhard Schrempf is pleased: "In addition to design contributions from all over the world, we were able to hold the conference ico-D in Graz. Designers and interested parties from Nagoya to Istanbul and Puebla to Mexico City have emphasized with their participation that Design Month Graz has become an international fixture."