Design Transfer
Parship for Creative Professionals
Partner exchange for a higher added value: How flirtations between creative people and companies become long-term partnerships with innovative output. And what is Creative Industries Styria's (CIS) role as a skilled matchmaker?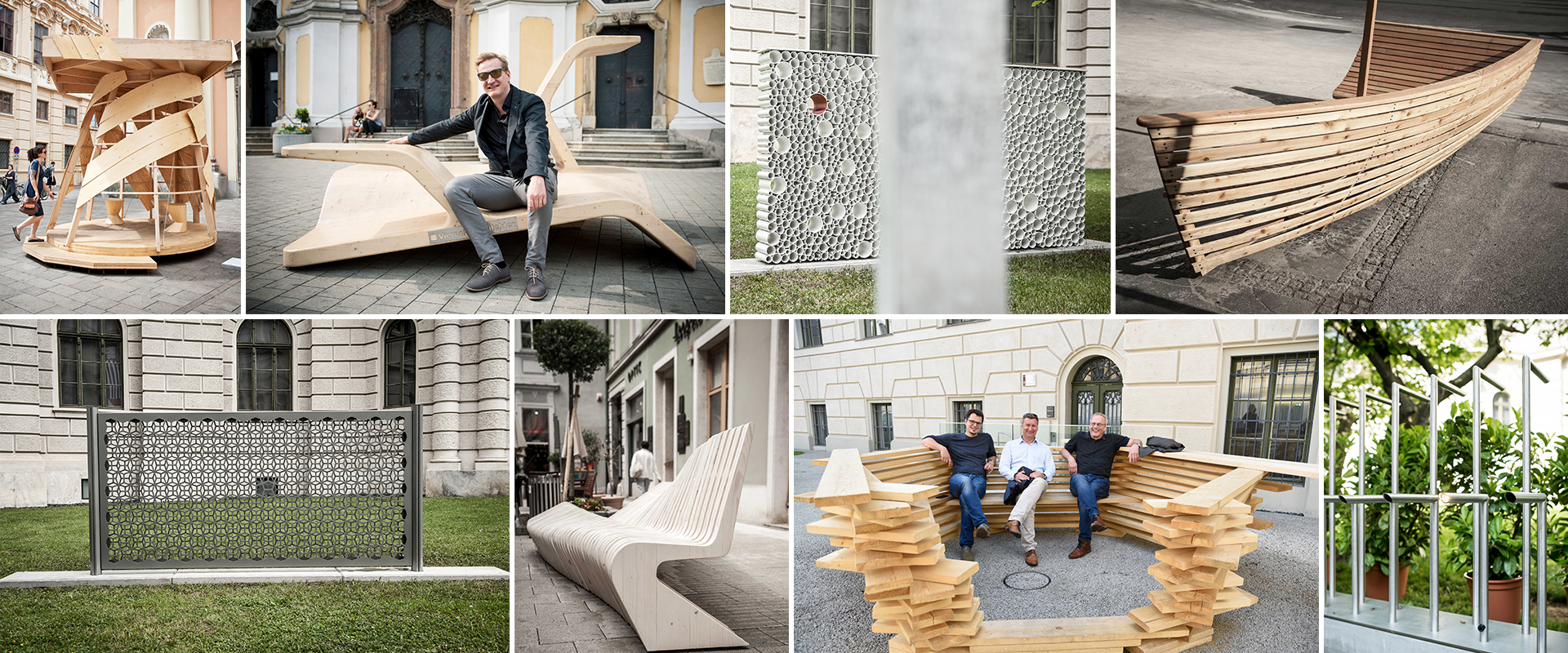 An encounter at eye level. Being ready to open up as well as the common wish to cross borders. It is true, when creative professionals and entrepreneurs cooperate, there is a great desire – to design things. What starts of as a fling, can quickly lead to a steady partnership. At the end of the day, it even results in offspring, namely new products.
Like a fence. Or a sofa. Those are just two examples from the most recent fruitful cooperation of the local creative community and some innovation-oriented companies. They share the process of getting to know each other. For, just like singles nowadays do make use of dating platforms like Tinder or Parship, so do creative professionals and entrepreneurs, in order to find ideal partners. The most effective platform in this country is called "Design Transfer", a format of Creative Industries Styria (CIS), which – being at the interface between economy and creative industries – helps local companies to choose the right creative partner. Together with the companies Creative Industries Styria analyzes the current demand and helps connecting them with the appropriate providers of the services needed. Creative Industries Styria can rely on an extensive network of creative Styrian professionals. The goal is always a perfect "match" between companies and creative industries and hence, the chance to build synergies and achieve higher added value!
Styrian companies increasingly see the opportunities of the label "Created in Styria" and turn to Creative Industries Styria for support. For instance, the Styrian manufacturer "H+S Zauntechnik" from Raaba invited – through the agency of CIS – three local designers to a competition for ideas. The results of the project "Customized Fences" were trend-setting fencing ideas of superior design, which were exhibited in the course of Designmonat Graz 2018. "In the end, we were pleased with first-class designs", said the two managing directors Martin Ritter and Guenther Baumhackl, "and secondly, due to the collaboration with creative people, we learned how a design-oriented perspective can expand the opportunities of strategic corporate management." It is a proof of the need to literally tear down old fences to enter new territory. And a partnership that will be continued.
Designer Thomas Feichtner created, for example, as an immediate follow-up project a bench made of fine stainless steel wires, which welded together create a complex structure. It was only possible to implement the masterpiece "Sphere" thanks to digital production methods and state-of-the-art welding technology provided by "H+S Zauntechnik".
The seating group "Helsinki" by Styrian designer Georg Mähring also results from a "Design Transfer" project. It was just honored with the "Austrian Interior Design Award". The award-winning sofa is the fruit of a "Design to Business" project, initiated by the furniture manufacturer ADA together with CIS four years ago, and is a successful example for the sustainable quality of creative relationships in this field. This also applies to the Graz-based label zweithaler and its corporate partner "mtdesign", a designer carpentry from Zeltweg.
Things just clicked between them in the course of the implementation of the sculptural furniture object "Mikado" within the "Smart Urban Privacy" project for Designmonat Graz 2017. An alliance that has now been extended and an exciting follow-up project is just around the corner.
To be continued.