Design Transfer
Graz is getting parklet prototypes
In times of advancing climate change, a high quality of life in the city is becoming ever more relevant. By creating separate zones in the urban space – for example parklets – part of the street space can be reclaimed for the benefit of the people. Parklets are small islands in the city that invite passers-by to linger without having to purchase something and are thus an alternative to outdoor dining areas or park benches. As part of a design competition, eight architecture and design studios from Graz presented their concepts for parklets to a jury. Four of the submitted concepts will be implemented as prototypes for the Design Month. As the initiator of the project, Creative Industries Styria accompanied and moderated the entire process.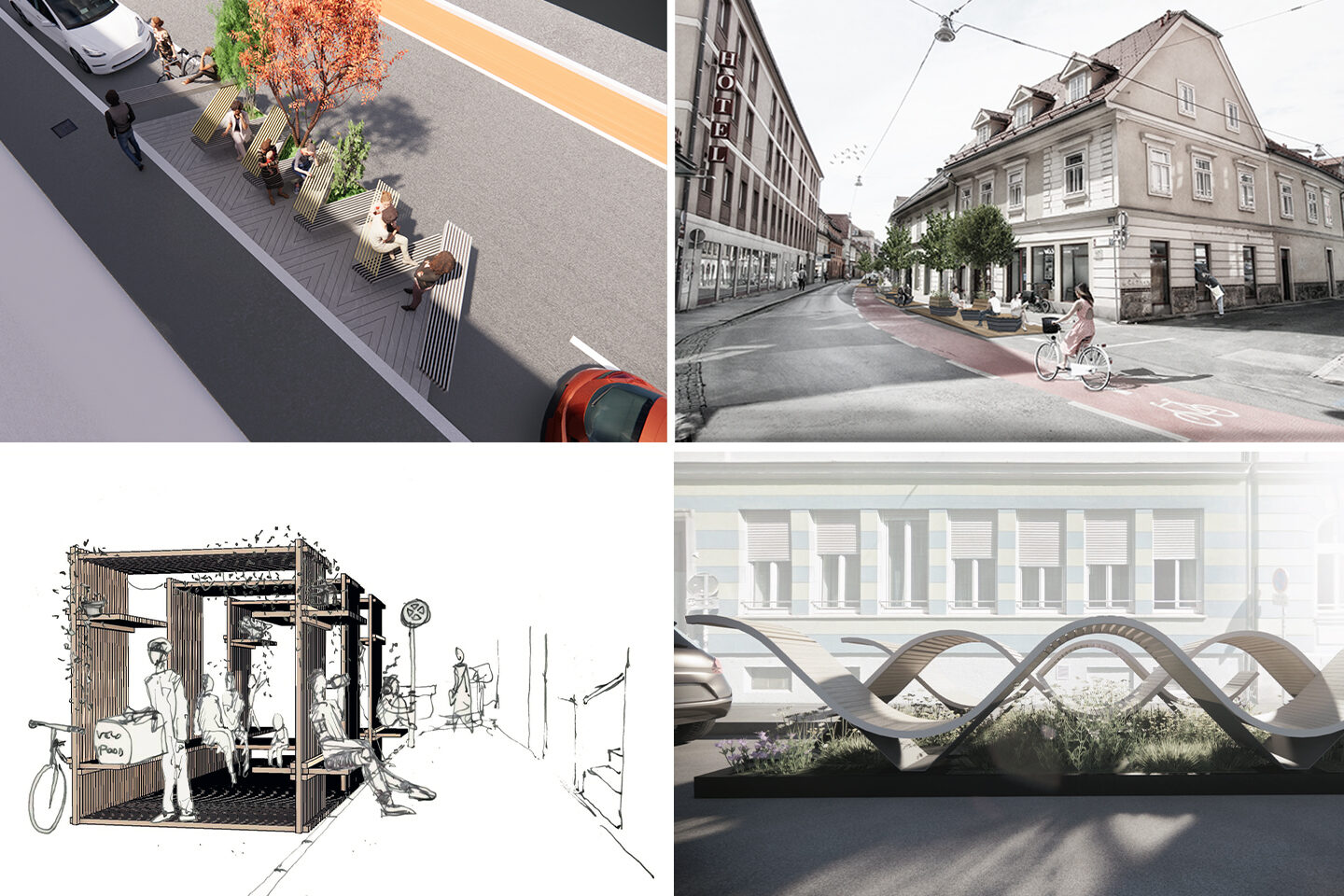 Parklets were first introduced as an idea in the 2000s. Around the world, people are turning parking lots into green oases with seating or catering areas. Now, such parklets will also be implemented in Graz as part of Design Month Graz 2021. These public relaxation zones are temporary seating areas of around 12 square meters, the size of a car parking space. They should highlight design and at the same time show how places can be adapted for new uses.
As part of the Design Month Graz 2021, eight architecture and design studios from the Creative Industries Styria network were invited to present their drafts and ideas for parklets to a jury. The jury consisted of Christian Tippelreither (Managing Director of Holzcluster Steiermark), Wolfgang Skerget (Head of the City of Design Coordination Office), Bernhard Inninger (Head of the City Planning Office), Peter Szapacs (Head of Retail Accoya) and Oskar Bachinger (Sales Manager) of the timber trading company Hechenblaickner, along with experts from the architecture and design sector such as Beate Engelhorn (Managing Director of Haus der Architektur). Four of the eight design concepts submitted were given the go-ahead for implementation as prototypes by the jury. The aim is to create small creative hotspots with high-quality architectural interventions. These relaxation zones with seating space or new space for plants or bicycles are now being implemented across Graz together with Holzcluster carpentry companies.
The 8 participating architecture studios:
The jury was specifically looking for high-quality parklet designs that are easy to implement and user-friendly.
Technical criteria:
Inclusive, welcoming and self-explanatory for everyone
No risk of injury as far as possible
Size of a car parking space
No mobile elements
Easy to maintain and care for
Material to be used: timber
Integration of plants
The role of Creative Industries Styria
The CIS Design Transfer program is dedicated to providing services and building bridges between companies, institutions and design studios. CIS mediates, accompanies, moderates and networks along the value chain from creation and production to distribution as a neutral service partner of both design and business. This is also the case with the "Parklets for Graz" project. CIS accompanied the entire product development process, from inviting architectural offices and managing the competition management to the production of the prototypes and the final presentation.
The four selected concepts
BRAUCHST
The concept developed by DI Gernot Pichler from BRAUCHST offers a quiet, simple place to linger that effectively decelerates the urban environment. The modular design with its many possibilities can cater to different locations individually. People can sit, lie down, talk, read a book and much more in a pleasant atmosphere, often turning a short break into a long one. Using a large number of wooden slats, the structure changes rhythmically between breezy sections that invite users to sunbathe, and more closed sections that offer protection, provide shade and create places of retreat. "In terms of construction, nothing is hidden, every connection between the timber pieces is visible," says Pichler. In addition, a green canopy made from native climbing plants, herbs and flowers extends over the entire top of the structure. They provide shade and a cool climate on hot summer days, enveloping the place in an intricate aromatic scent.
Draft & Implementation: BRAUCHST
FIPE Architects
The FIPE Architects team attempted to rethink conventional seating with their submission. On the one hand, their designed shape takes ergonomics into consideration, and on the other hand tries to reference the material used in the parklets, which is New Zealand Accoya timber. "We wanted to connect New Zealand with Graz", say Michael Petar and Markus Fischer, founders of FIPE Architects. Unlike in the home country of Accoya timber, surfing opportunities in Graz are limited. The "Surfin' Graz" concept by FIPE Architects is now set to change this. A wooden wave washes over the streets are full of parked cars and invites passers-by to "city surf". The goal of the wave is to provide an opportunity to surf even in dry conditions, with a cool drink in hand, alone or in a group. In honor of the 10th anniversary of Graz becoming a UNESCO City of Design, the team uses simplicity and elegance to attract the attention of those walking past, arousing their interest in design.
Draft: FIPE Architects
Implementation: COMMOD HOUSE
Studio WG3
The concept submitted by Studio WG3 is primarily characterized by flexibility. It has a modular structure and offers the possibility of many other optional functions: e.g. a solar station for mobile devices, bicycle parking spaces or integrated garbage disposal. Their design was inspired by the thought that an outdoor area in front of the office would be the perfect place for a lunch break. "One of the most important aspects for us was increasing the greenery in the city by using modules for plants", says Matthias Gumhalter from Studio WG3. The team tried to create new, interesting structures that would work both in a parking lot and in a square. Thanks to the geometric shape, the modules can also be perfectly adapted to the spatial limitations of the parking lot.
Draft: Studio WG3
Implementation: Tischlerei Kumpusch
Architekt Reinhold Tinchon
The design of architects Reinhold Tinchon and Armin Ibounigg refers to a law on floor markings for non-parking spaces of vehicles. According to this law, areas where parking is prohibited must be marked with a zigzag line. Based on this, the team developed "ZickZack", a three-dimensional implementation of such a floor marking. The structure is intended to serve as a barrier between the flowing traffic and the pedestrian area. According to Tinchon and Ibounigg, "The design offers not only versatile usage options, but also integrated triangular planters for more greenery and shade on the streets". Additional possible functions are charging stations for mobile phones, integrated trash cans or parasols.
Draft: Architekt Reinhold Tinchon and AI-D Architektur
Implementation: Fritz Friedrich. Gut Holz.
epps Architekten
DI Petra Simon and her team from epps Architekten developed a concept for a city parquet true to the motto: "It doesn't take much for a living room in the city". The concept can be best described using the example of Kaiser-Josef-Platz. On the surface, there is only asphalt and the temporary wooden tables of the farmer's market, but people appropriate these simple elements in various ways once the market is closed. This is why Simon thinks it is especially important that the furniture items are not over-defined and that the users are left with a wide range of use options. "We want to transpose such a living room and literally bring it onto the street in the form of a city parquet," says Simon. People can sit, lie down, play, garden and more, and all that without having to purchase anything at the surrounding stores.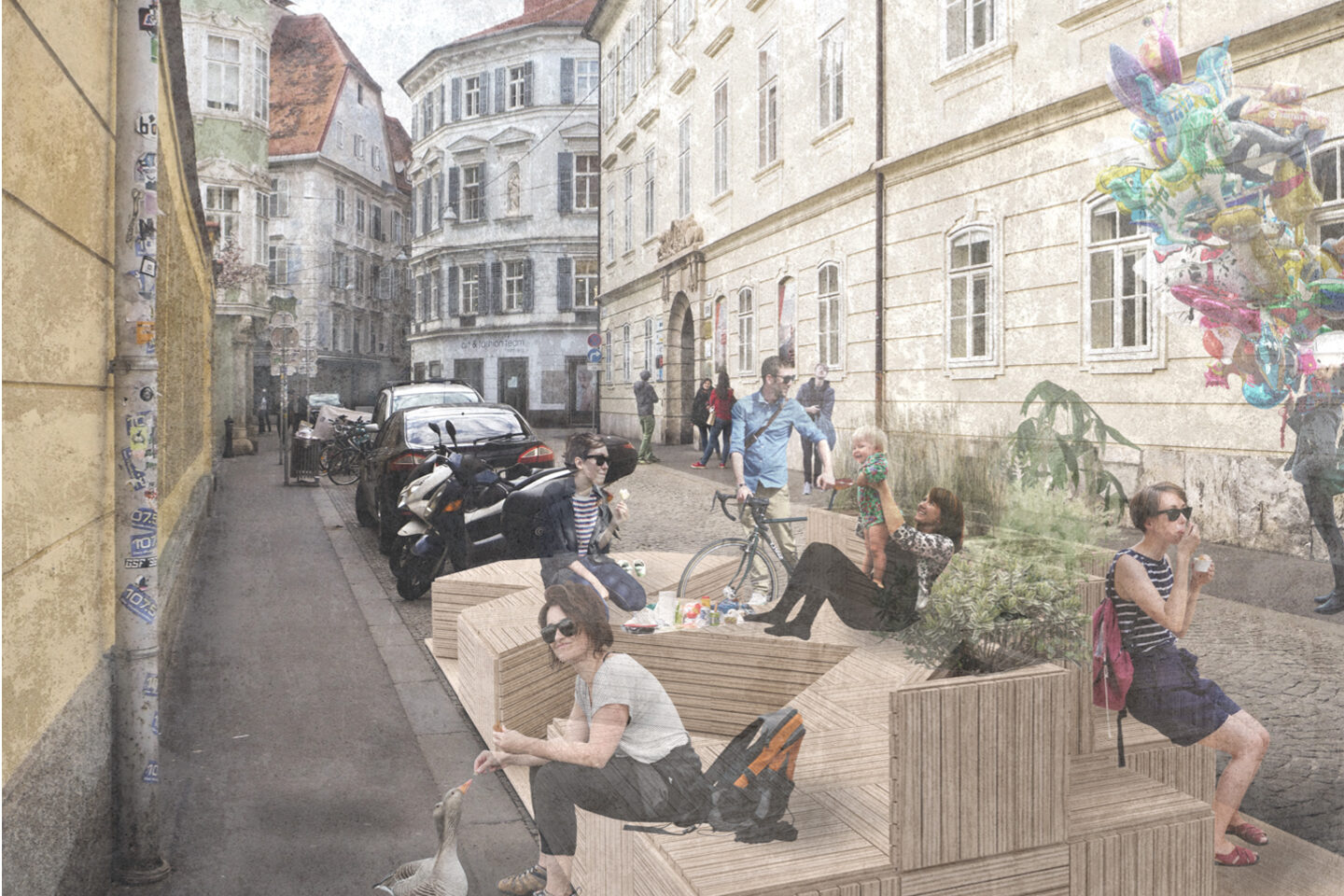 ©epps Architekten
HoG Architektur
Martin Emmerer and Clemens Luser (HoG collective) developed eleven different colored modules that together form highly recognizable street furniture. To find their inspiration, they walked the city on the look-out for those everyday situations for which there is no furniture in public space. Lendplatz, where people turn market tables into furniture for seating and standing, is a suitable example. "We were aiming for a breaking down and segmenting of functions (sitting, eating, drinking, talking) needed in public spaces. The individual modules add up to a landscape-like structure that the residents of the city can make their own," says Emmerer.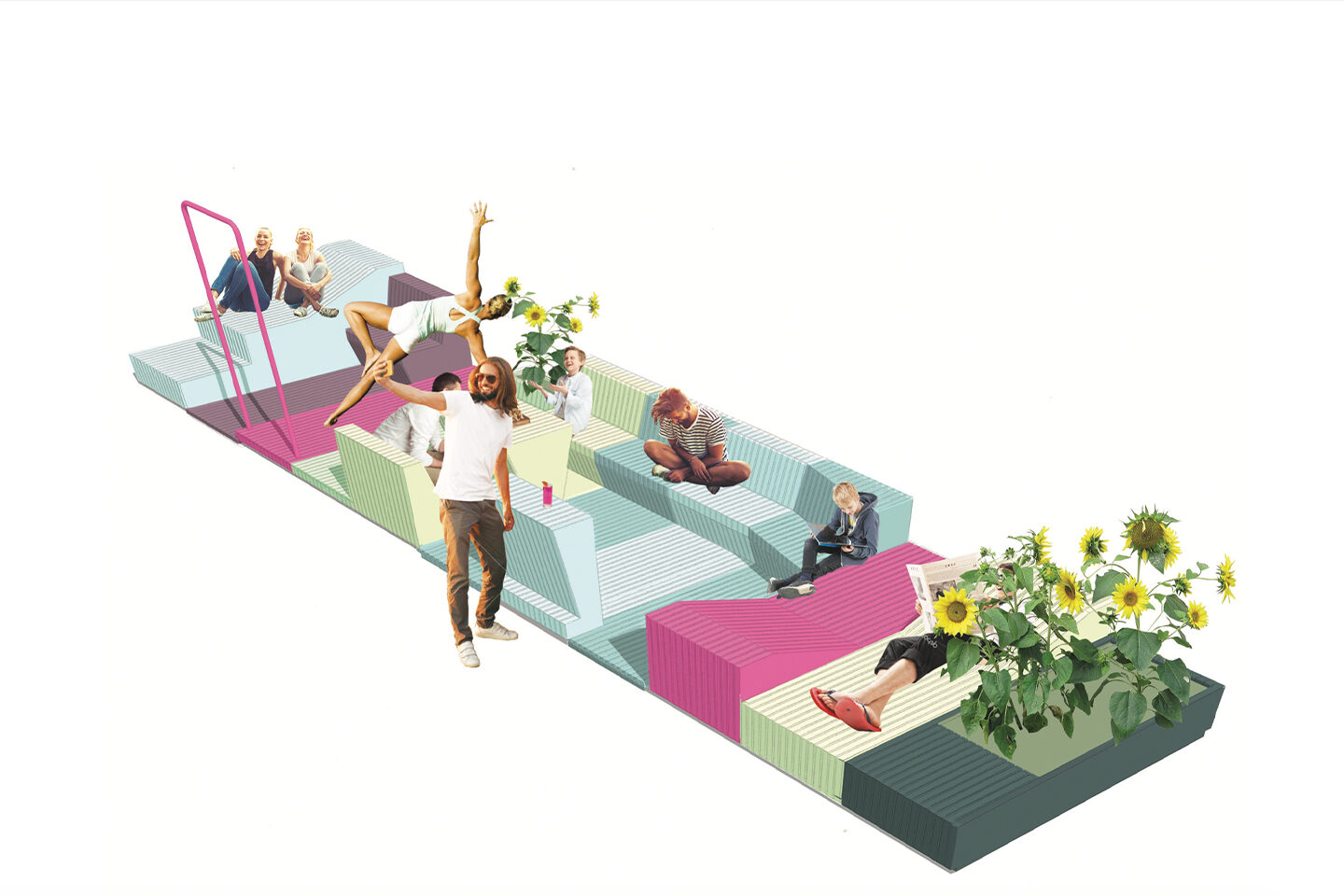 ©HoG Architektur
KUESS Architektur
The team around DI Nina Kuess from KUESS Architektur submitted a concept based on the Triangle. "Triangle is a space-creating street furniture that offers attractive opportunities to relax and retreat in the concrete jungle," says Nina Kuess. The Triangle serves as a skeleton structure into which the street furniture is built. A closed Triangle may serve as a 2-meter-high planter while an open Triangle offers seating with a backrest and sun protection for users. In various combinations, the wooden furniture creates space in urban areas, enlivens parking spaces and can flexibly adapt to its surroundings.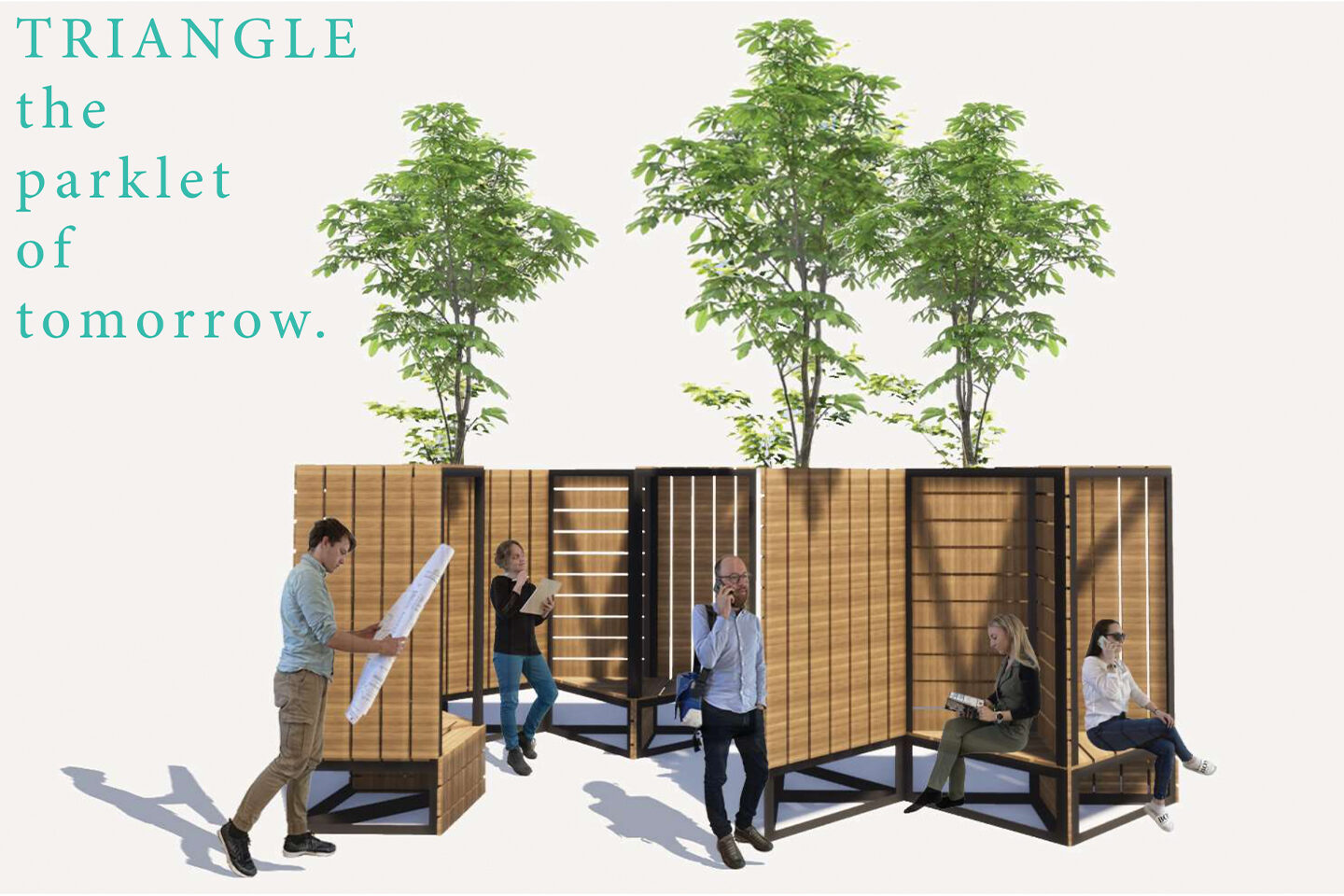 ©KUESS Architektur
AVA – Andrea Vattovani Architecture
The design by Andrea Vattovani Architecture aims to create a kind of landscape in which users can lie down, sit, stand, work, communicate, read and much more. "LAYers" is the name of the resulting multifunctional urban furniture. "When we were given the opportunity to design a parklet, it was particularly important to us to take as many different people, needs and situations into consideration as possible in order to create added value for the city," says Igor Kolonic from AVA. The street-side backrest is slightly raised to provide protection from traffic and to give a sense of security.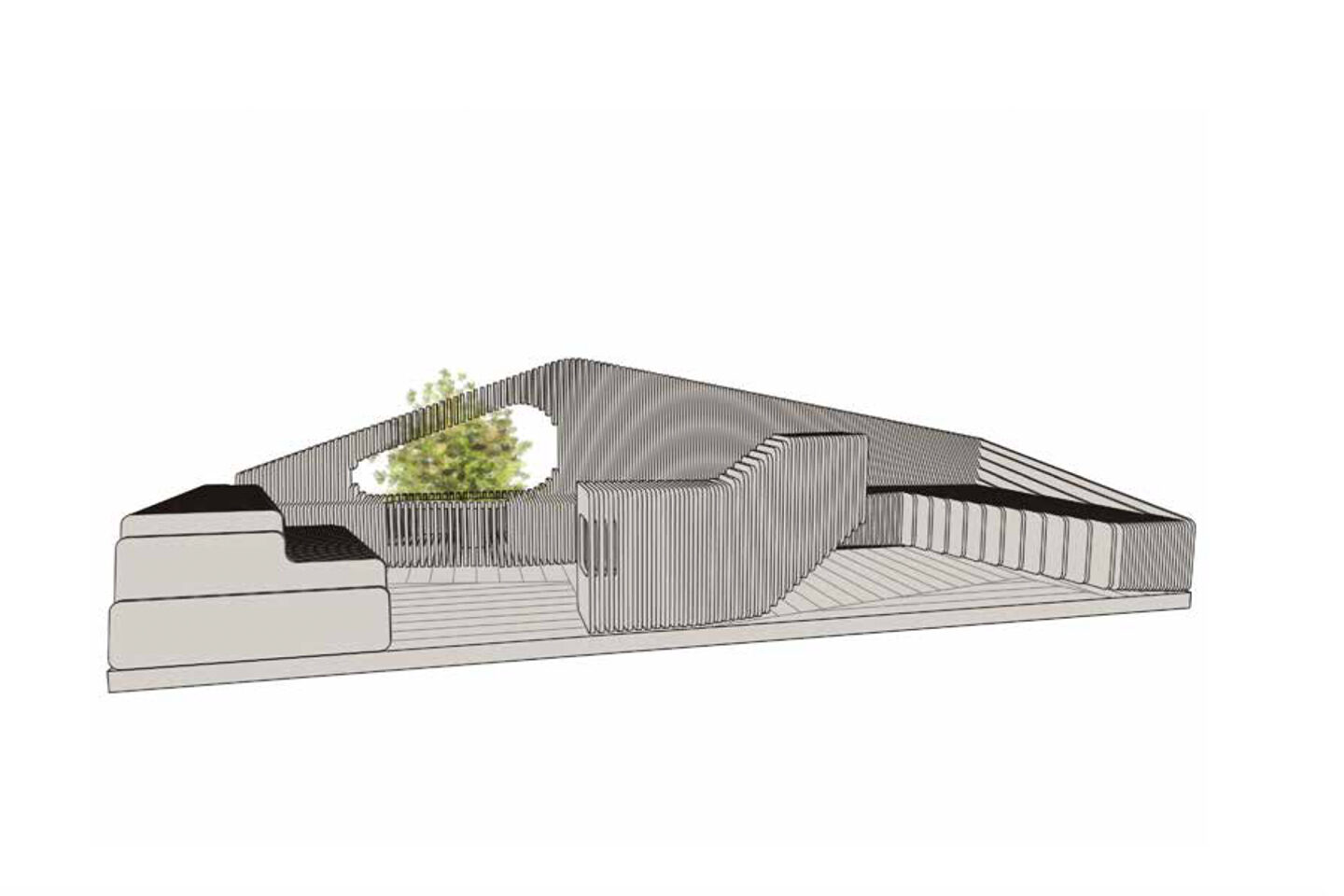 ©AVA - Andrea Vattovani Architecture