Design Transfer
These were the Austrian Design Talks at Schloss Hollenegg 2023
On July 5 and 6, the Austrian Design Talks took place at Schloss Hollenegg. Using well-known examples, nine partnerships from design and business – including Andy Wolf and Vossen – impressively demonstrated the contribution design makes to the success of their product.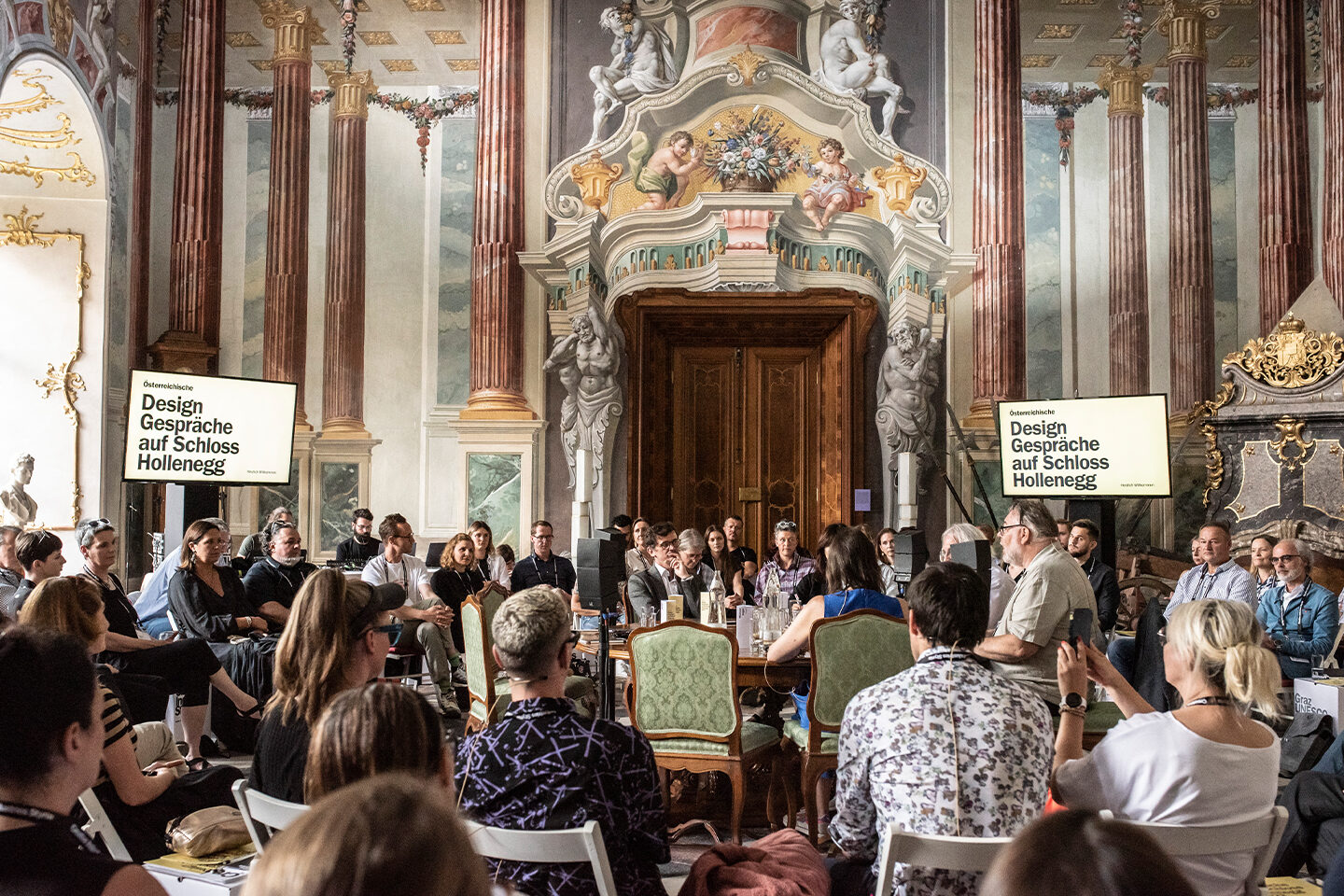 In the stylish ambience of Schloss Hollenegg in western Styria, two days were dedicated to the successful cooperation between design and business. Nine design talks focused on how business can benefit from design, how product development processes work and what is important in the process. Organized by Creative Industries Styria in cooperation with Schloss Hollenegg for Design, designaustria, Holzcluster Steiermark and CampusVäre.
These were the nine design talks:
ANDY WOLF X VOSSEN: BEACHCOLLECTION SOL E MAR
Dana Brauer, Peter Klotz (Andy Wolf Eyewear) and Michael Unger (Vossen) about the creation of the limited beach collection consisting of terrycloth bathing utensils and acetate glasses
KIUBO: THE FIRST MOBILE APARTMENT IN EUROPE
Gernot Ritter (Hofrichter-Ritter Architekten), Masa Jasarevic (Kiubo) and Christian Liebminger (Kulmer Holz-Leimbau) on an innovative residential approach based on an interchangeable modular system
TISCH ZWÖLF – FOOD FOR THE FUTURE
Christian Feurstein (Super BfG) and Sophia Sandkühler (Tisch Zwölf) on cooperation for sustainable, healthy communal catering in Vorarlberg.
MANADENTAL: ORAL HEALTH AT A PROFESSIONAL LEVEL
Johannes Smolle, Elisa Böhm and Andreas Inthal (Mana Health Technologies) on comprehensive oral hygiene at home and successful product adoption by customers
CRYOSHELTER: START-UP A CLEAN FUTURE OF MOBILITY
Daniel Huber (Moodley) and Matthias Rebernik (Cryoshelter) on the symbiosis of technological progress, innovation and cutting-edge design using the example of liquid hydrogen as an energy source
LAVAZZA: A PERFECT BLEND – HOW DESIGN AND ENGINEERING WORK TOGETHER TO GUARANTEE GOOD PRODUCTS
Florian Seidl and Valerio Vaccarono (Lavazza) on the importance of an efficient interface between design and engineering in new product developments
A LUSTER, RISEN FROM THE ASHES
Tadeas Podracky, Birgit Kumpusch and Niko Bretterklieber (B. Kumpusch Tischlerei) about the creation of a chandelier whose glass visually rises from the ashes like a phoenix
MUSEUMSBUND ÖSTERREICH: LOST RIVERS – OTTAKRINGER BACH
Birgit Mayer (Extraplan) and Sabine Fauland (Museumsbund Österreich) about the development of a printed map in combination with audio tracks on cell phones as a new mediation tool
BENE: THE STUDIO CHAIR
Thomas Feichtner (Studio Thomas Feichtner) and Michael Fried (Bene) about the collaboration to create a consistent design concept for diverse workplaces