Design Transfer
Customized Fences by H+S Zauntechnik
Go beyond boundaries with fences.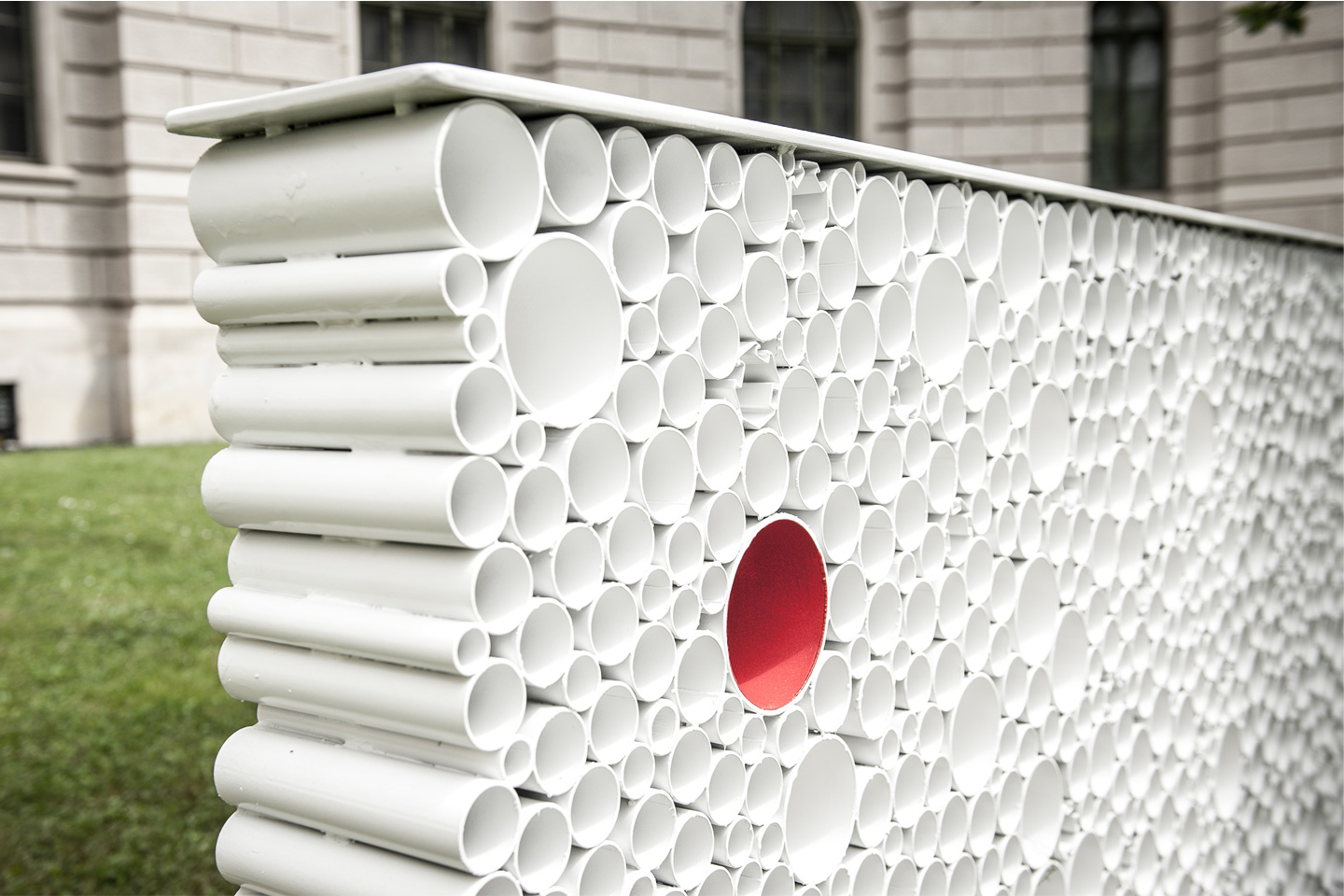 Break new grounds. The architecture of fences has received little attention in recent decades. The border and protective function of a fence is dominant – also when it comes to aesthetics. Form follows function, which in terms of fencing, results in ensembles of lattices, meshes and slats. Fences are sort of the last white spot on the creative map. The design of fences is currently plain and without any embellishment.
Together with Creative Industries Styria, H + S Zauntechnik decided to cooperate with designers and architects in order to break innovative grounds. The fencing specialist based in Raaba-Grambach invited local creatives to develop new approaches and project ideas for fence design. By positioning themselves in the design sector, the company is trying to secure a positive differentiation, a higher profile and thus future competitive advantages.
The designs were presented as part of the exhibition "Showcase 2018" at the designforum Steiermark.
Modular Interface
Zweithaler
The "Framework" design by the Graz-based design duo Zweithaler provides a holistic and technologically trend-setting concept. The modular and individually configurable system sees a fence as an interface for people, vehicles, materials and information. The fence as an interface between public and private spaces that interact with each other or allow physical exchange – whether in the form of parcels, mail or trash. For all exchange processes at the property line, the fence design provides functional solutions. Despite the multifunctional features of the fence, there is still a homogenous look.
Ornamental flickering fence
Studio Thomas Feichtner
In Thomas Feichtner's design, two different metal patterns, offset from each other, are stretched in a frame. The patterns, which are based on the geometry of hexagons, not only create an ornamental look, but also create a so-called moiré pattern in the moving external perspective: a perceived grid of fine interferences that create a dynamic flicker in the eyes of the observer. It appears to passers-by as if the fence was constantly opening and closing. An aesthetic borderline experience and a successful game with perception.
Living light fence
Giselbrecht + Partner Architektur
The starting point for this design by Graz-based architect Ernst Giselbrecht was to combine the border and protective function of a fence with a friendly gesture. The concept is based on stainless steel pipes bent at right angles and anchored in two rows in the foundation. At the front, the ends of the tubes are equipped with LED lights and motion detectors, which guarantees a playful and dynamic effect. This enables the fence to follow passers-by strolling past with its light beyond the fence and illuminate their path. The fence accompanies a visitor to the property just as a servant with a lamp once did.
Multifaceted pipe wall
Giselbrecht + Partner Architektur
Ernst Giselbrecht's second concept takes up the aesthetics of stacked stones. Based on the model of stone walls in Mediterranean countries, in this design metal tube pieces of different diameters are joined together and result in a multi-faceted pattern. The "pipe wall" is not only visually convincing, but also due to its sustainable production: The pipes used come from industry waste, including the ones of the H+S affiliate AVI, a steel producer.
H+S Zauntechnik 
The Austrian family business H+S Zauntechnik Gesellschaft m.b.H. has its production site in Raaba-Grambach and operates branches in Vienna and Klagenfurt. They are emotionally committed to the topic of fencing and hence an industrial product becomes a visually appealing border between two buildings or plots of land. H+S has specialized in the sale of a wide range of fencing, door and gate systems and their professional installation. The parent company can look back on more than 60 years of success. In order to offer an optimal solution for every customer requirement through many years of know-how, H+S employs its own staff in the production, assembly, sales and trading divisions.