Design Transfer
Hollenegg Design Talks 2018
The Hollenegg Design Talks took place on July 3 and 4, 2018.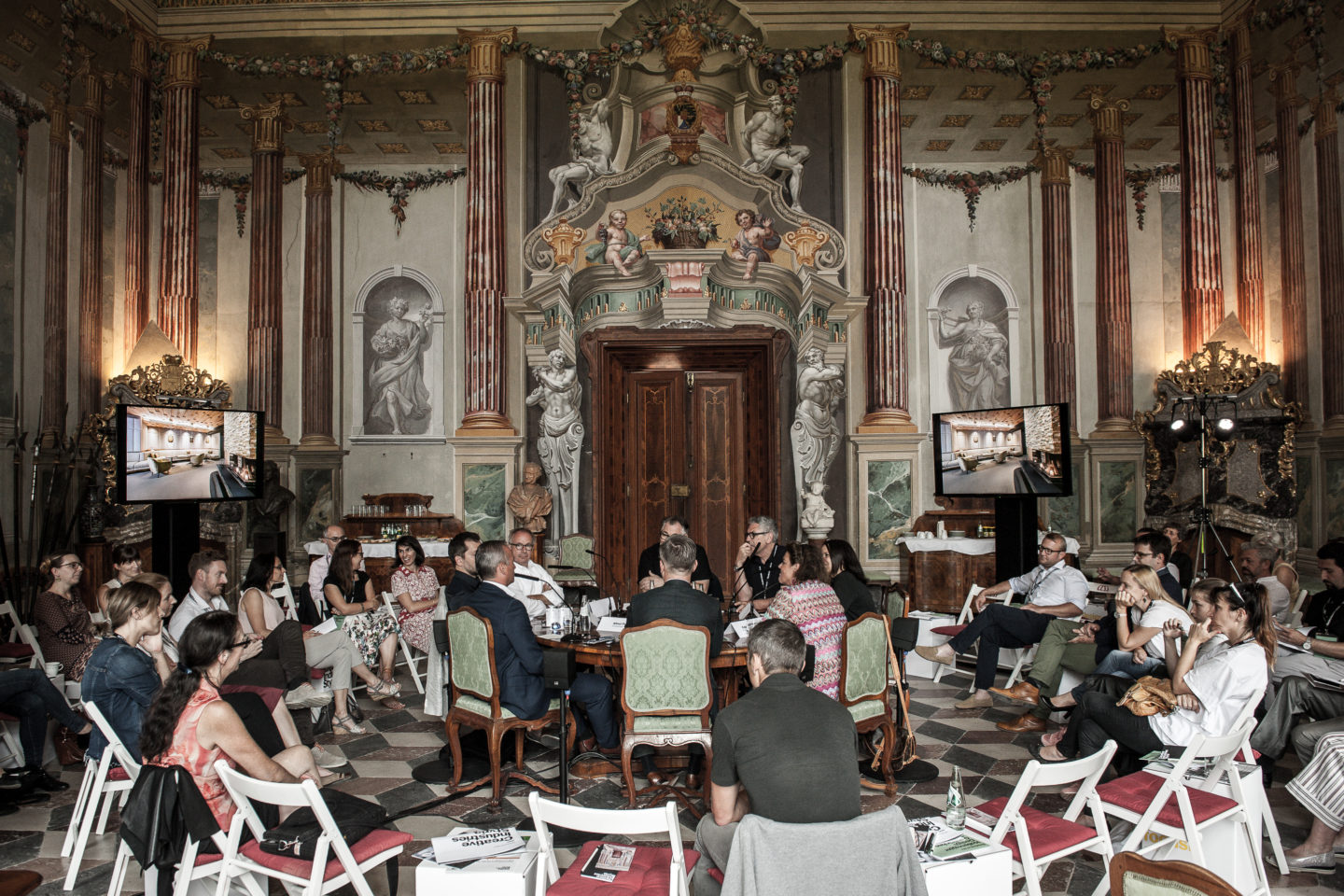 Success factor design: About the connection between success and good design
Design is the element in the product development process that has a lasting influence on success or failure. Hence, design is not only an aesthetic discipline, but also an economic criterion. The Hollenegg Design Talks explores ways and possibilities how companies can deal with the topic of design and how design can be integrated into existing corporate strategies. The focus is on the innovative and transformational power of design and its importance as a catalyst for successful product development.
When you talk about design, you mean high quality, from conception to production. Design leaves nothing to chance – accordingly high are also the expectations on the part of the companies and also on the part of the designers. Design also means allowing a permanent process of development and actively accompanying it. What can result from this, what can be adopted and what can be discarded, is the focus of an intensive exchange of experience that gives both sides room to tell about requirements, tasks and solutions, products and potential.
July 3 | Hollenegg Design Talks | Symposium in cooperation with designaustria
Together with experts, people discussed about public space as a specifically designed user interface. Public space is assuming an increasingly important function in cities: private living spaces are becoming smaller and, above all, more expensive, which is increasingly driving people into public spaces to meet and linger. Those who want to do this without having to consume something often lack an adequate and usable design of public spaces. The discussion also focused on rural public space and its functional redefinition. Due to structural changes in economy and society, popular meeting places become increasingly obsolete. Social life is shifting from churches and coffee houses to petrol stations and shopping centers. Areas, spaces and squares that are not intended to be economized are hard to find. Design in public space as well as design of public space thus faces a series of challenges that have a direct impact on the quality and perception of public space: What does the user interface have to be like in order to use public space in urban and rural areas? What do objects need to ensure a high quality of stay? And how do you raise awareness of the value of well-designed public spaces?
Participants of the first round of talks
Karlheinz Boiger is an architect and partner in the architectural studio "hohensinn architektur". In 2015 he won the international competition for the Austrian Pavilion for EXPO 2015 in Milan and founded "breathe.earth.collective", an interdisciplinary think tank made up of designers, architects, ecologists and artists.
Aglaée Degros has been heading the Institute for Urban Development at Graz University of Technology since 2016 and was previously a visiting professor at universities in Rotterdam, Delft, Brussels and Vienna. The Belgian-born architect and urban planner is co-founder and director of the urban planning office Artgineering, which has been awarded Europan 6, among others.
The art historian and author Elisabeth Fiedler has been head of the Department of Art in Exterior Spaces at Universalmuseum Joanneum since 2011, is chief curator of the Austrian Sculpture Park and the Institute for Art in Public Space Styria. Since 2012 she has been a lecturer at the Institute for Art History at the Karl-Franzens-University in Graz.
The Vorarlberg-based graphic designer Sigi Ramoser, who has received several awards, is co-founder of Saegenvier DesignKommunikation in Dornbirn. He is a lecturer and juror and teaches at the FHV Fachhochschule Vorarlberg, Schule für Gestaltung Ravensburg, Werbe Design Akademie WDA-Dornbirn, New Design Akademie St. Poelten and at the University of Liechtenstein Architecture Vaduz.
July 4, 2018 | Hollenegg Design Talks | Expert Talks in cooperation with Holzcluster Steiermark
Entrepreneurs and designers reported on their experiences in the joint development and design process. In addition, they discussed the challenges arising from the cooperation.
Design Talk 1
"Viennese tradition – reinterpreted" Karin Santorso and Barbara Ambros | LUCY.D | Augarten Porcelain Manufactory LUCY.D's melange set for Augarten & Lobmeyr Glas shows how the Viennese tradition of serving a glass of water with coffee can be reinterpreted. The alpha cup, a classic by Lobmeyr, combines with a new cup shape and a small plate to form a three-piece set.
Design Talk 2
"Wood hybrid design in tourism" Josef Goebl | Carpentry Goebel & Alfred Pierer | AlmWellness Hotel Pierer The AlmWellness Hotel Pierer, which in cooperation with carpenter Josef Goebel redesigned almost all of its rooms and lounges over the past 10 years, shows that modern timber construction is particularly popular with tourists.
Design Talk 3
"Memories XL" Martin Foessleitner | Hi-pe.at & Stefan Hampl | Sigmund Freud University Vienna The implementation and support of social projects is one of the focal points of the information design office hi-pe.at. The example of the project "Memories-XL" shows how universities, design studios and social institutions successfully cooperate for the benefit of customers.
The LUCY.D design studio was founded in 2003 by Karin Santorso and Barbara Ambrosz in Vienna. Both designers studied Industrial Design at the University of Applied Arts in Vienna and have been working for Alessi, Augarten, Lobmeyr and Wiesner Hager Bueromoebel, among others. www.lucyd.com
Founded in 1718, the Viennese Porcelain Manufactory Augarten is Austria's most traditional porcelain manufactory and the second oldest in Europe. To this day, every piece is handmade and painted in Vienna. www.augarten.com
The company Josef Göbel was founded in 1874 as a manufactory for wood and glass processing. The company supplies custom-made furniture and interiors in Austria and Europe, whereby all produced furniture come from the workshops at the company headquarters in Fladnitz an der Teichalm. www.josefgoebel.at
The AlmWellness Hotel Pierer has been welcoming their guests on the Styrian site Teichalm since 1893. The company, which has been awarded two of the awards "Relax Guide Lilien" and a Gault&Millau award, focuses on individual design with natural materials. www.hotel-pierer.at
Martin Foessleitner is the managing partner of hi-pe.at in Vienna and board member of designaustria and IIID. He teaches at universities in Austria and abroad, develops information and guidance systems and has designed a variety of participatory workshop formats for municipalities, industrial companies and non-profit organizations. www.hi-pe.at
The Sigmund Freud University Vienna (SFU) offers studies in the fields of psychotherapy, psychology, but also medicine and law. In the academic year 2017/2018, around 4,800 students from over 80 countries took advantage of the SFU's courses.