Design Transfer
Hollenegg Design Talks 2017
Design - a success factor? How good design and economic success are related to each other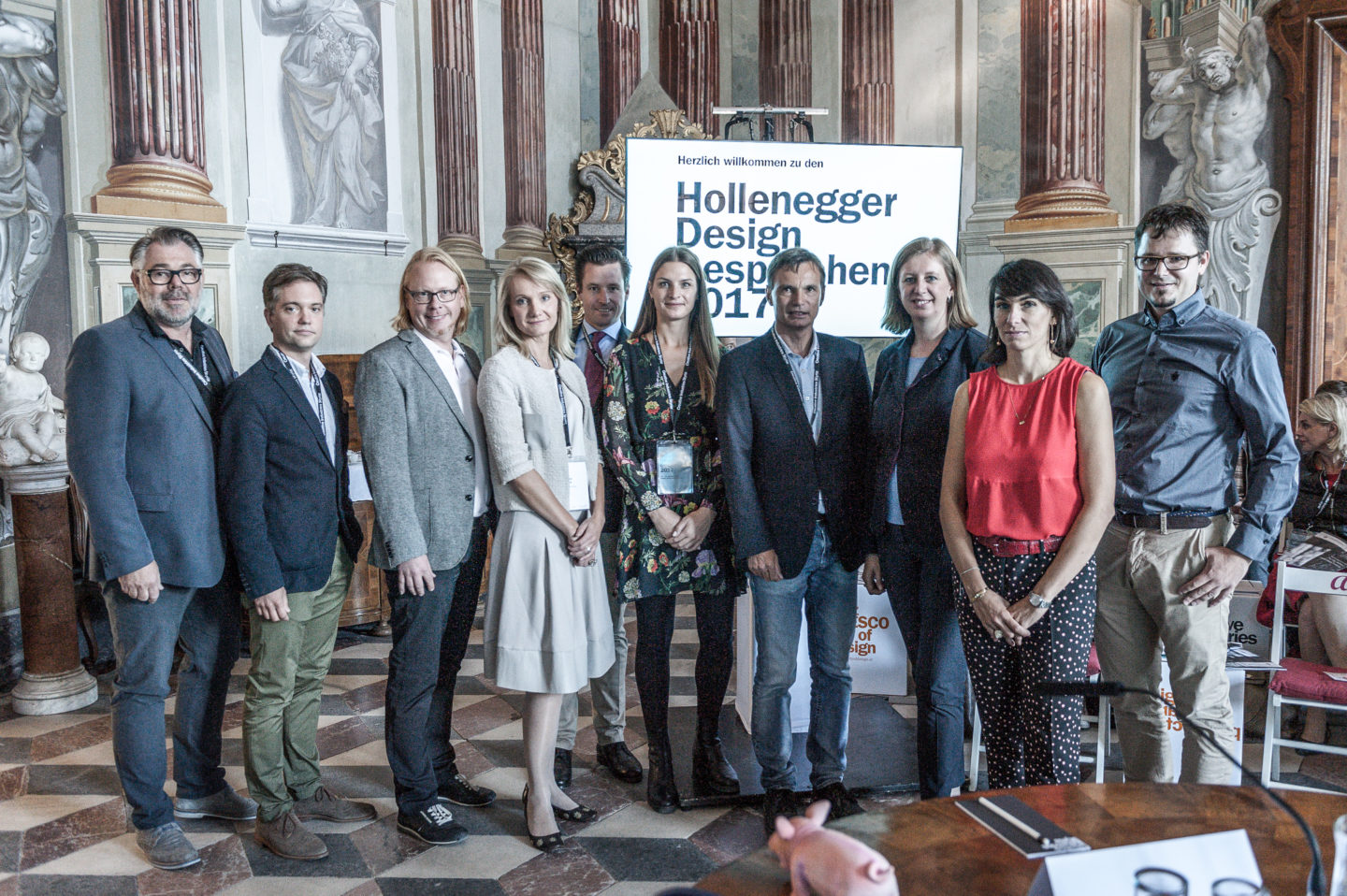 Design is the link between an idea and a finished product – and often the determining factor for its success. But what is the best way to match design and economy? – Design Transfer builds this bridge, and that is exactly what the Hollenegg Design Talks report about. Schloß Hollenegg offers an exclusive setting, when experts meet in the ceremonial room to talk about design, its innovation and its economic potential as well as about their individual experiences.
It is a fact that Design is linked to expectations, from both the customer and the contractor. It is also a fact that design is no one-time action and also no a crisis task force but a permanent process. The Hollenegg Design Talks elaborated what expectations are linked with this design process and what experiences and skills can be derived from.
How to determine the weight of pigs simply, fast and non-contact, showed the meter WUGGL ONE developed by Schweinzger und Alois Temmel and designed by Edelweiss Industrial Design.
Jarosinski & Vaugoin is one of the oldest silversmiths in Austria. The designer Stephanie Hornig has given the day-to-day objects of silver a poetic dimension. The work has been created within the scope of the exhibition "Morphosis", which has shown works by 20 young designers at Schloss Hollenegg in Designmonat Graz 2017.
The "bird houses" of the prestigious Steirereck am Pogusch offer guests unconventional accommodation. Marleen Viereck (Viereck Architekten), Martin Breitenberger (Mareiner Holz) and Gastronomy Heinz Reitbauer (Steirereck am Pogusch) spoke about the development of these special guest rooms.
PROGRAMME
Wednesday, 13th September
Hollenegg Design Talks | Symposium
How much design strategy does a country need?
in cooperation with designaustria
Several countries in the world have developed a design policy, including Finland, Great Britain, Denmark, Ireland, Iceland, Slovenia and South Korea. The main idea is always the same: design experiences an improvement which strengthens the business location and secures international competitiveness.
But what exactly does a design strategy mean for the understanding of design in country? How can such a strategy be implemented? How complex should it be? What can Austria learn from countries that already have elaborated a design strategy? And why are we still waiting for a design strategy in Austria?
These questions were discussed by experts from various design institutions in Austria as well as from economy.
Moderation: Severin Filek (GF designaustria); Eberhard Schrempf (GF Creative Industries Styria)
16.00:
– Welcome and opening
16.30:
– Presentation of national design policies / design strategies
– Presentation of the design policy of Slovenia by Bostjan Kenda | Academy of Fine Arts Ljubljana
– Symposium/discussion
20.30:
– Discussion at a dinner at Burg-Restaurant Deutschlandsberg
Thursday, 14th September
Hollenegg Design Talks | Expert talk "Design as a success factor"
Design – a success factor?
in cooperation with Holzcluster Steiermark
13.00:
– Welcome by Alice Stori Liechtenstein (Schloss Hollenegg for Design) and Eberhard Schrempf (Creative Industries Styria)
– Opening by Barbara Eibinger-Miedl, Minister for Economy, Tourism, Europe, Science and Research.
Design Talk 1
"WUGGL One"
Joris Zebinger | Edelweiss Industrial Design & Markus Schweinzger | WUGGL
Design Talk 2
"Elements of Morphosis"
Stephanie Hornig & Jean-Paul Vaugoin | Jarosinksi & Vaugoin
Design Talk 3
"Vogelhaus"
Marleen Viereck | Viereck Architekten & Martin Breitenberger | Mareiner Holz & Heinz Reitbauer | Steirereck am Pogusch
Moderation: Eberhard Schrempf
www.wuggl.com
www.edelweissdesign.at
www.stephaniehornig.co
www.vaugoin.com
www.viereck.at
www.mareinerholz.at
www.steirereck-pogusch.at