Design Month Graz
ico-D Special Meeting 2019
The International Council of Design's "Special Meeting" challenges Design Weeks and Biennales, Design Museums and Design Cities from across the planet to come up with new ways to use design to better our lives.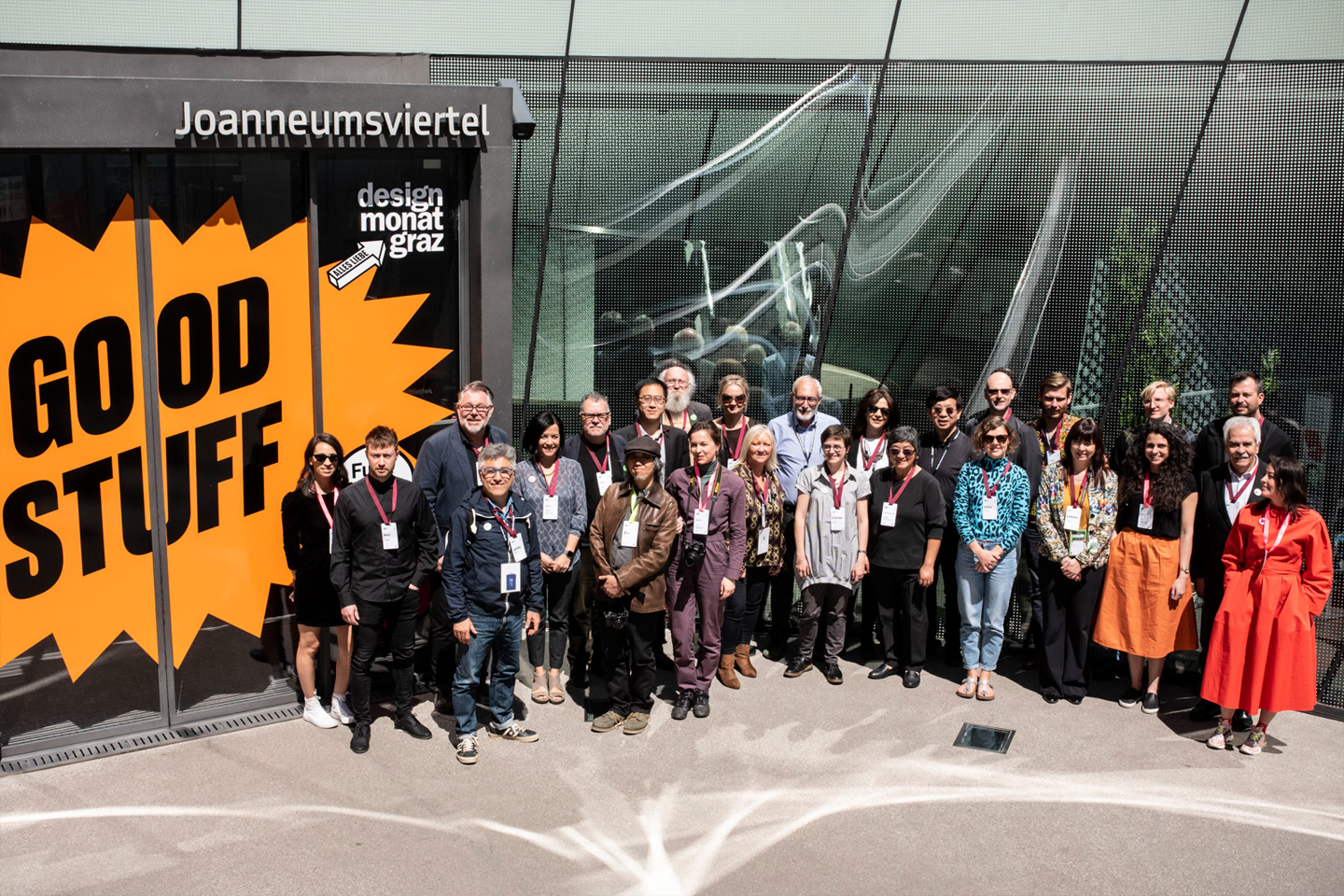 The third iteration of the ico-D Special Meeting was conducted in Graz (Austria) on 10 -11 May 2019. Hosted by Creative Industries Styria, in partnership with Beijing Design Week, the two-day event was attended by representatives of 16 organisations from 12 countries.
About the Special Meeting
The Special Meeting format was created by ico-D to bring together representatives from Design Weeks, Cities, Museums, Festivals, and Biennales to determine how they can collaborate to achieve mutual goals and address shared challenges. The success of a one-day pilot Special Meeting 2017 in Montréal (Canada) led to a second full-scale Special Meeting 2018 in Beijing (China) in September 2018. The second Meeting marked the start of the Special Meeting partnership with Beijing Design Week, taking place over two days and attended by representatives of 18 entities from 15 different countries.

The Special Meeting in Graz
The 2019 Special Meeting was held at Joanneumsviertel Auditorium in the museum complex of Graz's cultural centre. Topics of discussion ranged from the philosophical, How can we collaborate to implement fundamental change? to the actual, Women and Design to the practical, Connecting the design community to business, government, the public, and others. Time was also devoted to roundtable discussions and brainstorming sessions to build tools to work together and create international networks to transfer know-how and collaborate on joint projects.
Day 1
The Special Meeting opened with topic 1 "Being Heard" – Connecting the design community to business, government, the public, and others. Graz Story was shared by Eberhard Schrempf, representative of Graz UNESCO City of Design and Creative Industries Styria, detailing current and past programmes, challenges and successes in targeting stakeholder audiences. Alvaro Rego of MUMEDI then presented a case study of the MUMEDI museum building itself as a tool for design communication to the public, and Anja Zorko of BIO discussed the way by which the Biennial of Design responded to the changing needs of the design community, transforming itself from an industrial design show to a collaborative process.
Mary Josephine Cruz of Design Week Philippines presented the Design Centre Philippines' development and obstacles in becoming a driving promoter of design as a way of life, and Dan Li of Beijing Design Week discussed how the festival has been working with businesses and governments to expand beyond Beijing, establishing design festivals, programmes and initiatives in other cities in China.
Puebla UNESCO City of Design was represented by Luis Gonzalez Arenal, who played on the format of an Instagram story to present the ways by which inventive and disruptive methods are becoming key to express the value of design, and Isabelle Verilhac (Saint-Étienne UNESCO City of Design) illustrated the various ways that the city of Saint-Étienne is drawing on its citizens for design collaboration.
Topic 1 roundtable discussion was led by Eberhard Schrempf, participants discussed the measures of success of their communication methods, the challenges associated with the measurement of these practices, as well as the need to focus on fundamental messages in order to communicate the true value of design.
The afternoon continued with a "Speed Dating" breakout session, where participants had 2-minute encounters with each other to find out top priority needs and forge collaboration directly.
Day 1 concluded with the Partner Presentation, What AI brings to the design industry, given by Min Wang from Beijing Design Week, which discussed the evolution of AI and it's capacity to augment and extend human ability and imagination. 
Day 2
Topic 2  "Women in Design" addressed issues, implications, challenges and opportunities. Ana Masut (ico-D) underlined the practical necessity of plurality; Alexandra Sankova of Moscow Design Museum looked at the past, present and future of women designers in Russia, and Daniela Piscatelli (Aiap Women in Design Award) led a discussion on new models for women designers. The discussion touched on notions of humanity in design, and highlighted the gaps between the theory and practice of gender equality in design. Participants examined how experiences could be shared and efforts aligned to generate impactful projects of mutual benefit, and proposed possible ideas and practices to reeducate, redefine, and redevelop systems from within.
Day 2 Breakout session was a brainstorming exercise to develop the parameters of a tool that would allow the participating organisations to communicate with each other directly between Special Meeting sessions. The ideas brought forth began to shape an instrument that can be used to create an online network to be used by entities to facilitate collaborative projects.
The day wrapped with Topic 3 "Fundemental Questions": How we can collaborate as a community for lasting impact. Gabriel Roland of Vienna Design Week illustrated the ever-changing ways by which the festival stays fresh, and Dara Lynch from D&AD presented the D&AD Impact Award, recognising design ideas that are driving positive change. Adrian Jankowiak (Nairobi Design Week) concluded the participant presentations with an overview of collaborative projects that are harnessing design as a force for good within the economy.
The Special Meeting closed with a discussion that touched on many important points – the need to separate the function of design as an agent of change from the everyday tasks that define current notions of success, the role of the designer in creating social equity, and how the participating organisations can collaborate to help each other, in tangible ways, to address some of the common issues and challenges faced and together be instrumental in changing the global design agenda.
The Special Meeting was held to coincide with Design Month Graz, the month-long city-wide design festival. Special Meeting participants were fortunate to attend the Opening Ceremony on the evening of 10 May 2019.
Special Meeting Host Creative Industries Styria organised a trip for all Special Meeting participants to visit the AD MENSAM exhibition at Schloss Hollenegg for Design – a 12th century castle in rural Styria that hosts design exhibitions, workshops, and residency programmes. The castle, that has Renaissance, Baroque, and Rococo elements amongst others, has become a space for contemporary design research and thinking. AD MENSAM incudes the works for 20 designers and examines how the table acts as a catalyst for connection among people.
Participants
Li Dan  |  Beijing Design Week
Min Wang | Beijing Design Week
Daniela Piscitelli | Brno Biennale Association
Mary Josephine Cruz | Design Week Philippines
Arhan Kayar | Istanbul Design Week
Sertaç Ersayin | Istanbul UNESCO City of Design
Jan Rajlich | Brno Biennale Association
Doreen Toutikian | Beirut Design Week
Nino Groß | Fifteen Seconds Festival
Álvaro Rego García de Alba | MUMEDI Museo Mexicano del Diseño
Diana Solis | MUMEDI Museo Mexicano del Diseño
Luis Gonzalez Arenal | Puebla UNESCO City of Design
Adrian Jankowiak | Nairobi Design Week
Emanuel Barbosa | Porto Design Biennale
Michał Piernikowski | Lodz Design Festival
Alexandra Sankova | Moscow Design Museum
Raman Saxena | Delhi Design Festival
Lukáš Pipek | Czech Design Week
Dara Lynch | Design & Art Directors Festival
Isabelle Verilhac | Saint-Étienne UNESCO City of Design
Camille Vilain | Saint-Étienne UNESCO City of Design
Gabriel Roland | Vienna Design Week
Eberhard Schrempf Graz | UNESCO City of Design