Experience Economy
Experience Sustainability in Action
More than 6.900 shipped parcels every day, more than one million available items in the warehouse and over two million customers worldwide – all that includes a special focus on sustainability and attention to their team of more than 230 employees, which defines the special quality of the Styrian company niceshops. Now you can experience their premises and corporate philosophy within a guided tour through the company's headquarters in Paldau. On October 1, 2019, the seal of quality was awarded to the newest member of the project Experience Economy.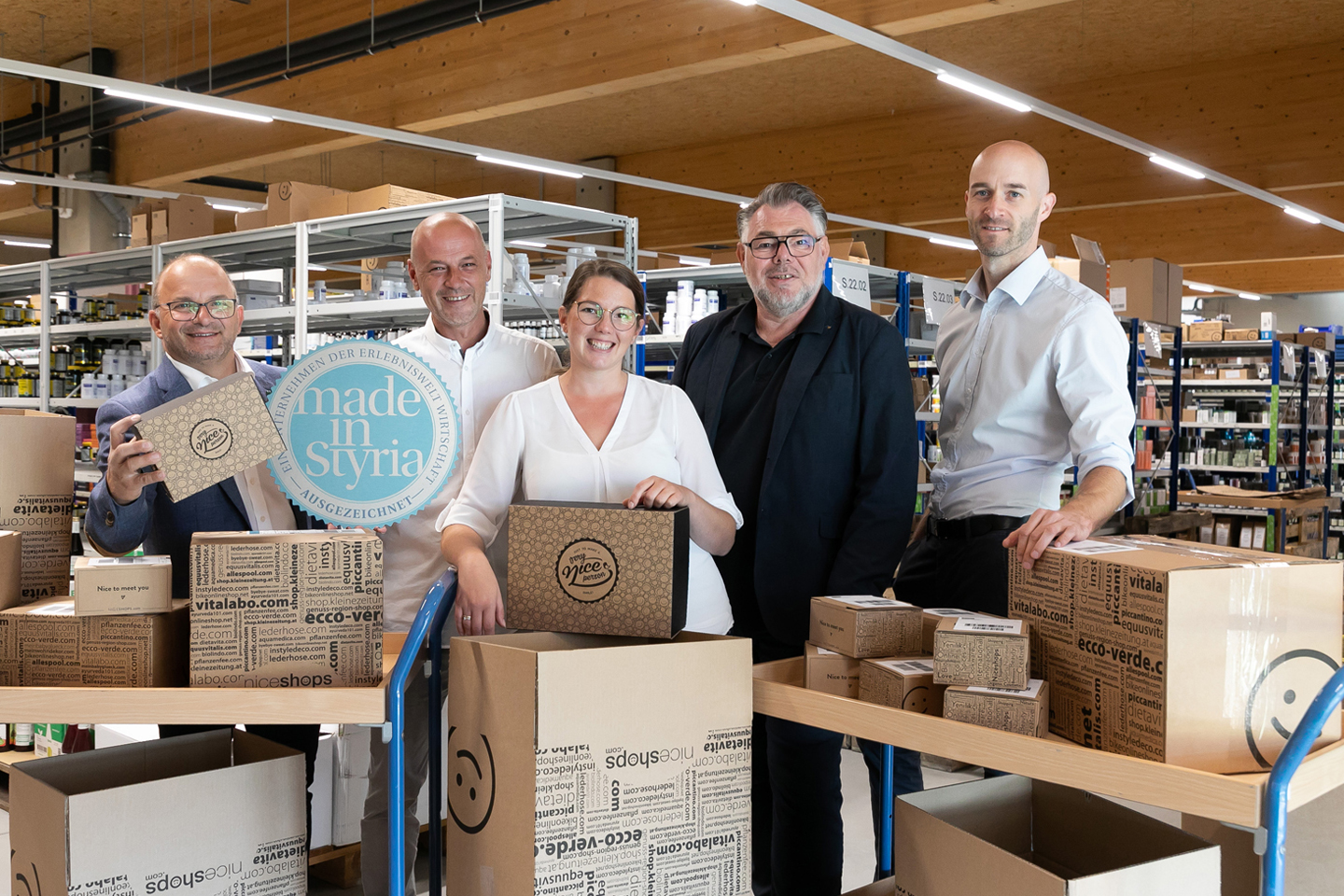 "Nice Vibes" could have not been a better slogan for the guided tour, as the visitors learn about the company's attitude towards sustainability and their appreciative work environment. When attending the tour through the premises, it becomes clear immediately that niceshops is so much more than just a warehouse with more than one million available items at all times. They produce the natural cosmetics own brand in the in-house laboratory, there are solar panels on the roof to ensure the power supply, they prepare themselves for future transportation possibilities with a drone landing place, and the offices totally reflect an atmosphere of appreciation and inspiration. Interested visitors can also become active themselves by order-picking consignments.
"Niceshops is a regional flagship company from Paldau, known for its products and services, far beyond the borders and hence, significantly contribute to the strengthening of the region. I am extremely happy that Roland Fink decided to allow visitors to have an insight into his utmost successful company in the course of those guided tours", says Minister of Economy, Barbara Eibinger-Miedl.
A special design
What makes the format Experience Economy so special, is the fact that the guided tours are seamlessly designed by local creative companies which are assigned by Creative Industries Styria (CIS). The design for niceshops was provided by the agency "Die Seeblickerin". Owner Michaela Kerschbaum says, "I do not know any other enterprise whose name is as consistent with its corporate philosophy as niceshops. The core idea and mission of the assignment was to promote this enthusiasm felt by so many, which is also reflected in the industry rankings and sales figures. We named this tangible energy 'nice vibes' ".
"Transparency is one of the pillars of our corporate culture, which only makes it obvious that we'd like our clients and local people who are interested in our company to have a look behind the scenes. We really do believe, that it is our responsibility to improve the world, for our employees, the environment, and society. Being one of the best employers in Europe, it is our most especial concern to share this idea and its implementation with as many people as possible" says niceshops managing director Roland Fink.