Design Month Graz
Call for Designers and Shops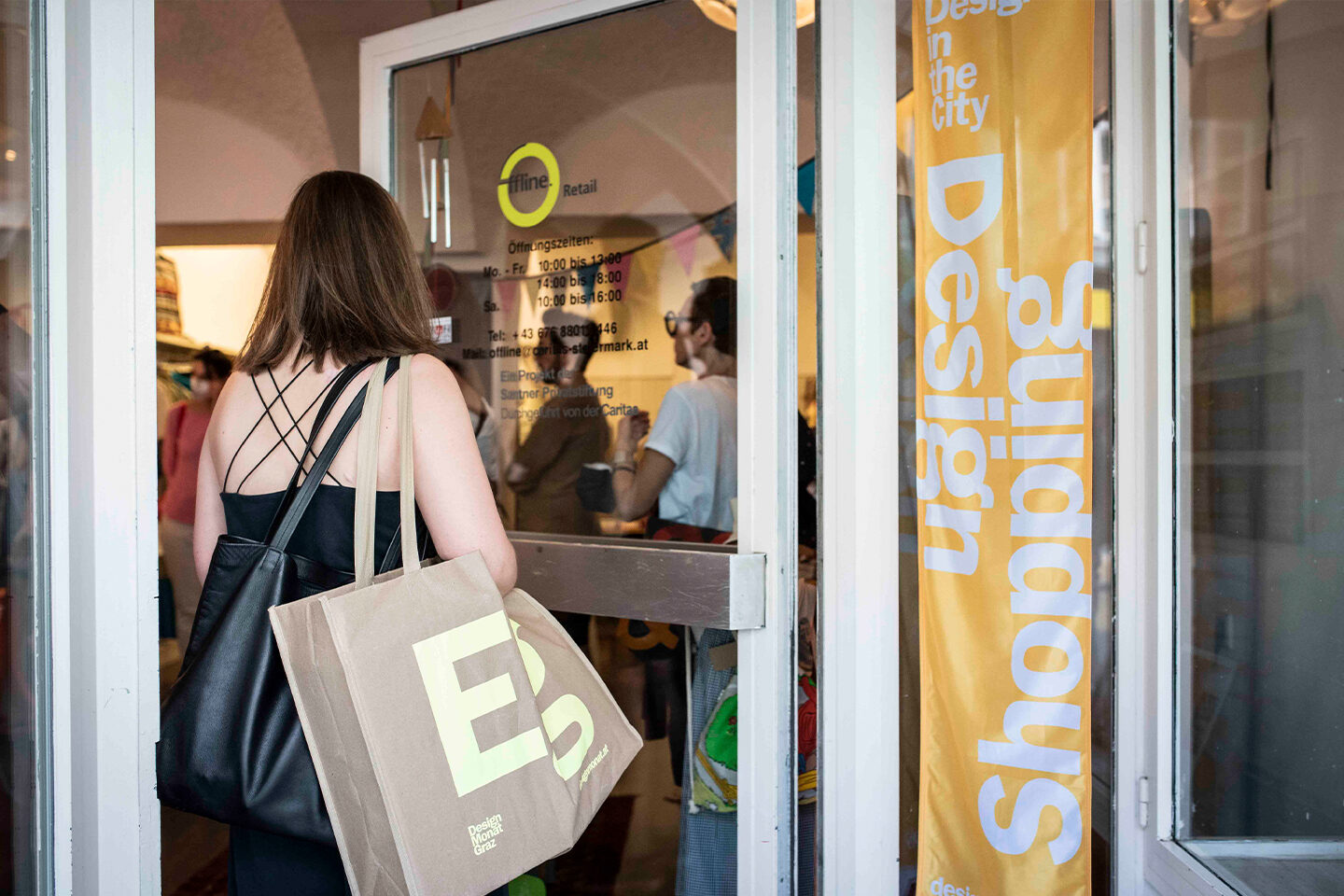 Become part of the Design Month Graz 2023! From May 6 to June 4, everything will revolve around the focus topic Revolution. Designmonat Graz will once again highlight the range of services offered by the design scene in the City of Design Graz for one month.
Design in the City is a format in the Design Month Graz that offers people the opportunity to experience design away from exhibitions and workshops. Companies and designers present extraordinary products, unique collections, outstanding creations and a lot of information about the role design plays in their business. All this happens where design is lived with passion: in the stores and companies of the city. Design becomes visible – the search is on for new and current design products that are waiting to be presented to a wide audience during Design Month Graz.
The call is aimed on the one hand at store owners who would like to present product design beyond their classic store routine, and on the other hand at designers who are looking for a suitable presentation space for their product.
Opportunities to participate:
You can participate as a store together with a designer and a finished project.
Both stores and designers can also enter separately and will be referred to each other. In this case, the curator will look for suitable cooperation partners.
The objects will be exhibited in the store during the entire Design Month Graz and can be supplemented by a kick-off event, a presentation, a "Meet the Designer" and/or a workshop.
Submission Criteria
As a designer:
a short description of your product
whether you are planning an event as part of Design in the City
3 – 5 photos of your product
As store owner:
a description of your store (what products you sell, your location, etc.)
if you are planning an event as part of Design in the City
Submit your project by email to designinthecity@cis.at.
Particular attention should be paid to the following
Ownership
The format and type of event are up to the submitter – whether it is a presentation, event, exhibition, workshop, a single program item or a program series. The program item is fully conceived at the time of submission. Idea sketches for projects and work in the conception phase cannot be considered.
Personal initiative
The success of the submitted program point depends essentially on the initiative of the submitters. Design Month Graz sees itself as a marketing umbrella under which a large number of program items can be accommodated. However, this does not replace personal commitment and self-marketing for the event.
Self-financing
The cost of participation for stores is 300 euros (excl. VAT). For Full Members of CIS, participation is free of charge. The same applies to participating designers. Program points must be financed at your own expense. Creative Industries Styria cannot provide any financial means for the implementation!
Services of Creative Industries Styria
The Creative Industries Styria as initiator and organizer of Design Month Graz uses all available channels of marketing and public relations to communicate the program points regionally, nationally and internationally. All information is available on www.designmonat.at in German and English, as well as via the social media channels.
Coordination of the program points

The Creative Industries Styria has an overview of all submitted program items. This allows the best timing of the submitted program item and prevents overlaps.
Marketing support

The Creative Industries Styria communicates the overall program and Design Month Graz as a brand. In doing so, it also supports the marketing of the submitted program items. Media work for individual program points takes place in cooperation and coordination with the partners.
Call for Designers & Shops | Design Month Graz 2023
Submit until January 27, 2023
Bitte senden Sie Ihren Beitrag an designinthecity@cis.at.
Contact 
Theresa Freydl
Creative Industries Styria
+43 (0) 316890598-18
You want to participate in the Designmonat Graz with presentations, events, exhibitions, workshops or single program points? then submit to the Call for Programme ein.