Food Revolution from Graz
Julia Pengg, Managing Director of Mangolds, talks about their new project Food Saver, about the responsibility of producers, retailers and buyers and about design as a key element.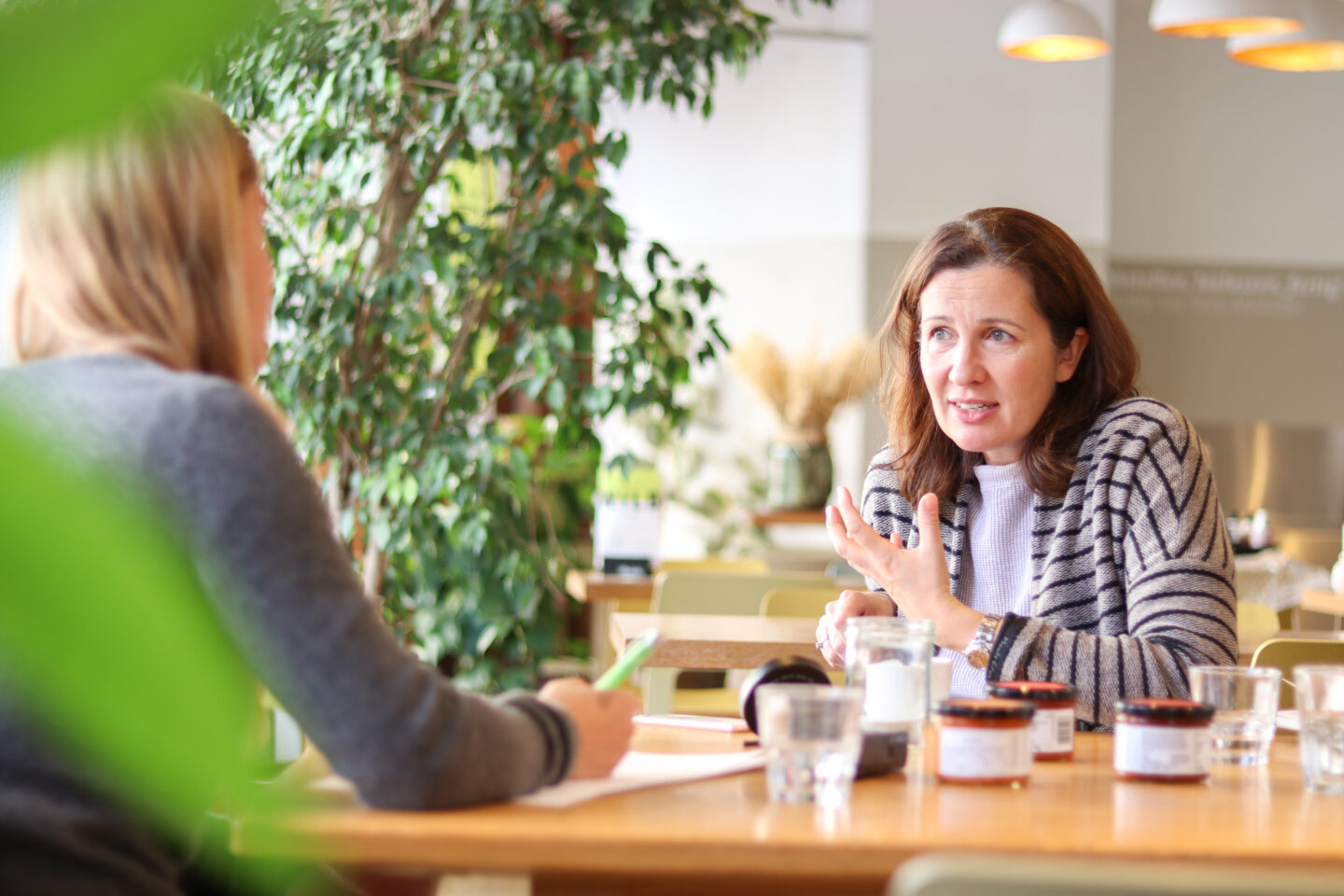 Graz-based Mangolds catering and lifestyle company used the lockdowns to develop a new product line and become a pioneer in food saving. In the interview, Managing Director Julia Pengg provides exciting insights into the idea behind the project Food Saver and how she implements sustainable policies in her company.
What is the project Food Saver and how did it come about?
Under the moniker Food Saver, we produce dips and burger sauces using salvaged ingredients and sell them in jars specially designed for reuse.
When our restaurant had to close during the Covid-19 lockdowns, we began offering take-away lunch in Mason jars. This was very well received by our customers, so we decided to expand on it. Quickly, our considerations started to involve the subject of excess and damaged foods, which is a major problem in the catering industry. The consequences of the lockdowns for producers were of course even more dramatic – many had to destroy their produce. This animated us to think and act.
What actions did you take as a restaurant?
We followed the supply chain to contact the producers directly. Specifically, we are currently working with two farms – an organic and a large-scale farm that delivers directly to retailers. These two are ideal cooperation partners for us in terms of product provision, quantities and, above all, in terms of delivery distance. We not only take their surplus produce, but also vegetables and fruits that do not meet retail standards – such as vegetables damaged by hail.
According to studies, up to 30% of the food never makes it to retail. One of these farms works with only 3% rejected produce and even that is more than we can process.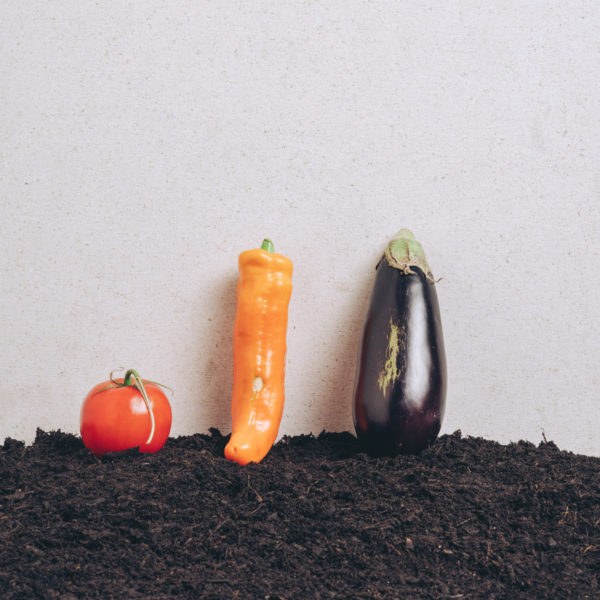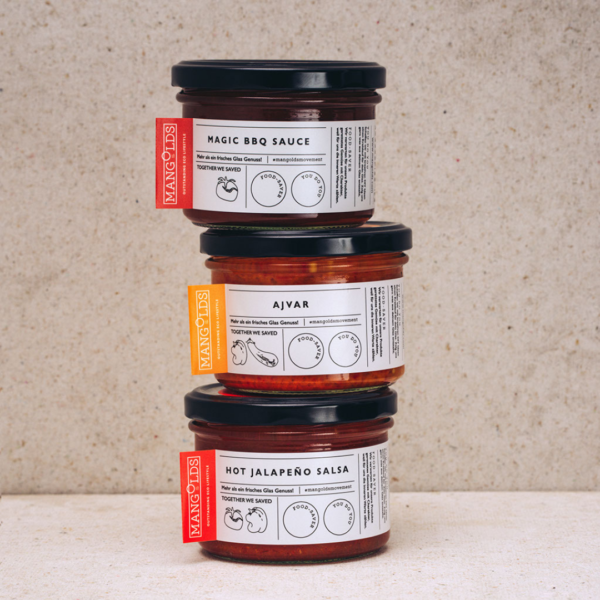 And you produce Food Saver products from these saved foods?
Exactly. We make the perishable goods more durable by transforming them into something new – the burger sauces and dips in the Food Saver series. They are vegan, contain no preservatives and have a shelf life of one year. Food Saver products gives people the opportunity to make food saving a part of their everyday lives.
This way, the issue becomes noticeable and important to people while bringing joy to everyone. You can understand it, touch it, and gift it to others.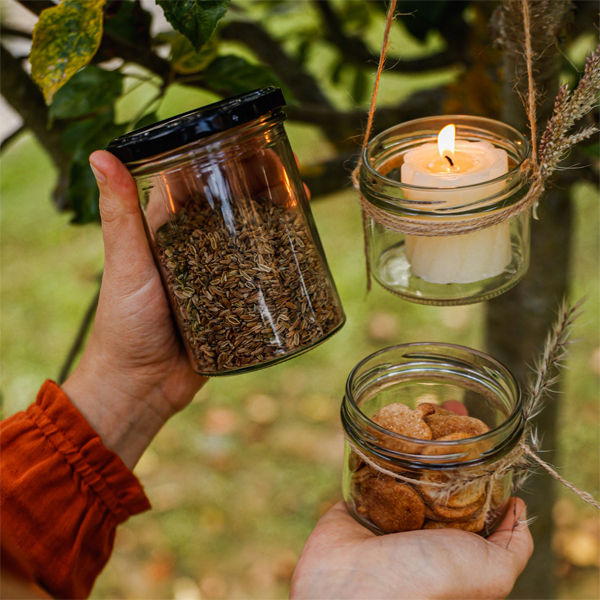 How did you approach the design process?
We live in a very aesthetic-oriented society, therefore the design and aesthetics of a product is a key success factor. First and foremost, we wanted to convey a certain awareness of sustainability and, secondly, deliver a beautiful design. After all, if the solution is practicable – and looks and tastes good – people are happy to change their habits.
Our focus on re-usability also determined the shape and type of the Mason jar: the shape and dimensions of the jar, for example, allow for direct use on the table as well as easy cleaning, and the label is removable without leaving any residue.
Mangolds wants to become the first climate-positive restaurant in Austria. As a company, what else can you do besides making Food Saver products?
We are working hard to reduce our carbon footprint, but we still have a long way to go.
At the resource level, we can already change a lot – for example, when it comes to electricity or water consumption, packaging or transport routes. We keep track of all of this and check to see where we can optimize processes. Tracking is a bit more complex at the menu plan level, but still possible: where do the vegetables come from, in which season, and in which way? Our coffee is transported by sailing ship, for example. In the first six months of the Food Saver project, we saved a total of 1.3 tons of vegetables and cooked them for the Food Saver products and the restaurant. These are tangible numbers that can be used to measure success. Implementation is most complex in company areas that have least to do with the actual product, such as administration. But even there, it is our goal to include sustainability in every business decision.
The goal of being climate neutral or even climate positive is tangible and quantifiable. You can track it, see the development, communicate it and therefore also hold others accountable.
Mangolds has been around since 1989 and the company is a pioneer when it comes to sustainability. How did holistic thinking develop as a corporate philosophy so early?
Sustainability in catering developed in the health sector and wholefood cuisine 30 years ago. Topics such as organic eating or sustainability, which now have a high priority in society, have always been important to us and thus logically became integral to our company philosophy.
It is important that the topic of sustainability encompasses all areas of life: nutrition, health, personal care, sport. If you can do something for your health and well-being and at the same time feel that you are protecting and preserving the environment, you have a holistic solution.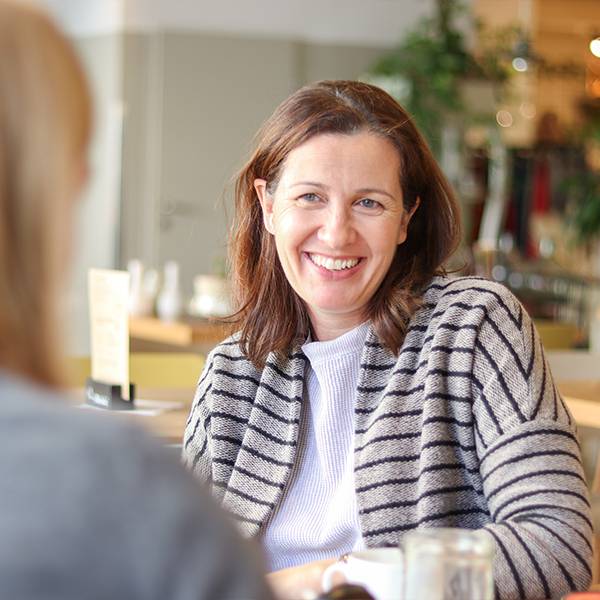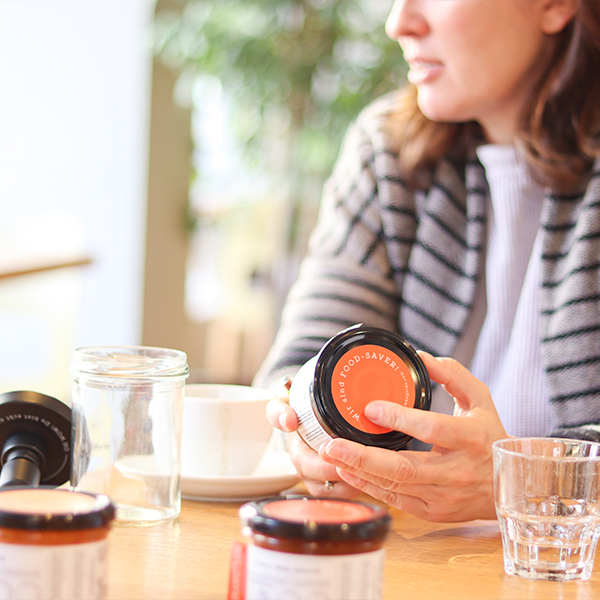 What can we all do to make food consumption even more sustainable?
In the spirit of the Food Revolution, all participants in the food cycle can become active.
The problem of excess food needs to be brought even more to the fore among producers – we are working on this with the Chamber of Agriculture, among others. However, we also have to address other issues such as the cultivation of heritage fruit and vegetable varieties, or diversity.
In addition to that, of course, retailers have a great responsibility. A lot is already being done here – for example, there are fewer central warehouses thanks to digital ordering systems.
And ultimately, of course, the consumers also bear responsibility for their purchase decisions.
In the digital age, networking and communication are also central elements. Under the hashtags #mangoldsmovement and #wirsindfoodsaver, we are therefore also cultivating an online community interested in all topics related to sustainability.
Founded in Graz in 1989,
Mangolds
has been setting standards in terms of ecology and design for years – always in connection with positive emotions. Mangolds stands for a holistic lifestyle with special products ranging from nutrition, natural cosmetics and yoga – preferably certified organic and vegan – and supplied by small producers.
In the family business, over 30 employees work together with Julia Pengg to constantly create new, positive Mangolds moments.
Instagram: Mangolds & Mangolds Futter
Facebook: Mangolds &  Mangolds Restaurant
Food Saver Product
Graphic design: Katharina Seiler / Nebulabor
Photos: Mangolds / Lex Karelly