designforum Steiermark
The Next Poster
21.09.2022 – 23.12.2022
Graz, Österreich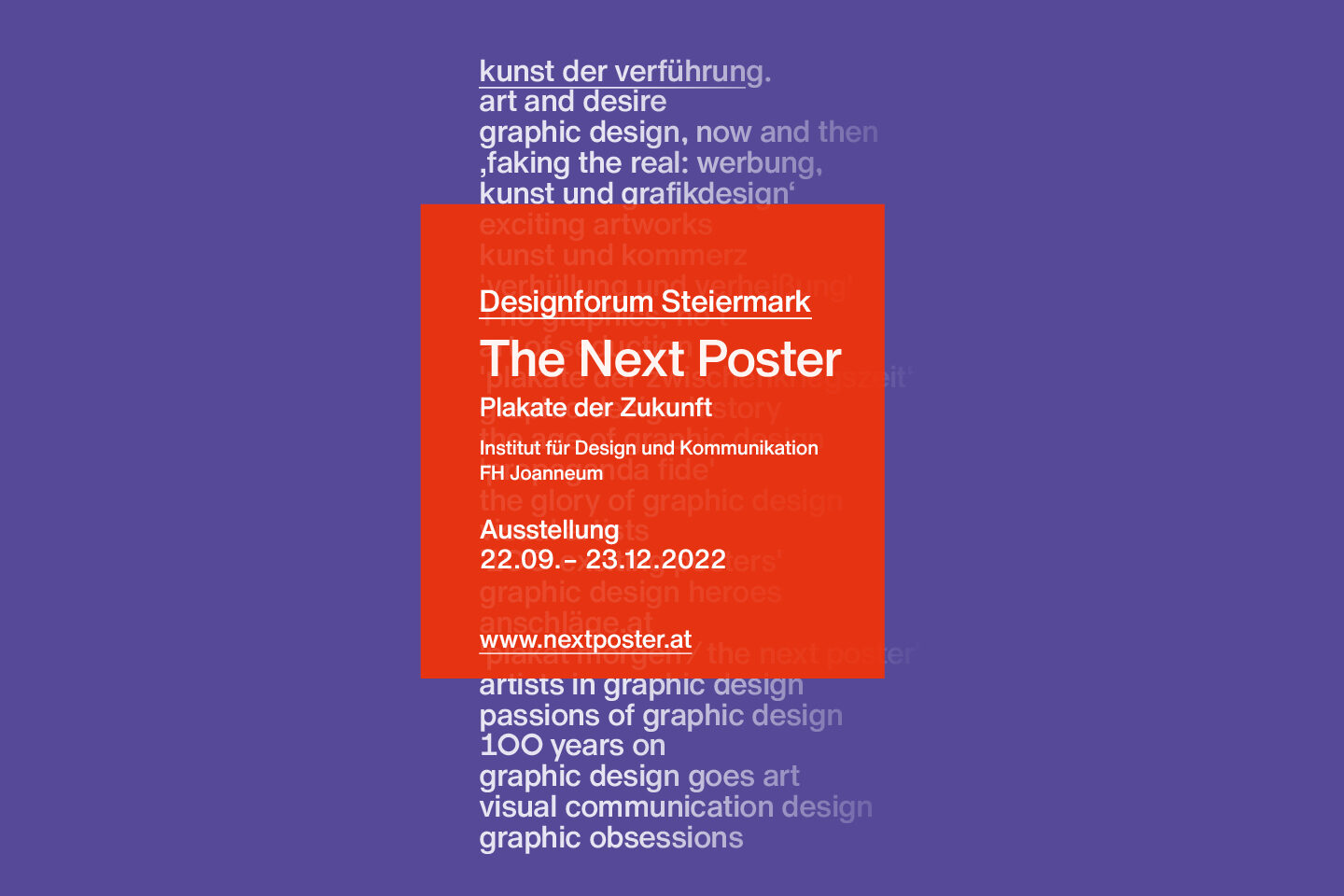 The poster as a medium of both artistic and commercial interests has always played an important role in design education. It is not only about the creative tools of the trade, but above all about the examination of the tradition and future of this very changeable medium. That is why the poster is also the preferred subject of applied design research.
The project "The Next Poster" as part of the Graz autumn focus "Art of Seduction" deals with the historical and technological changes and extensions of the poster medium. Keywords are: the acoustic poster, the mixed reality poster, the virtual poster, the kinetic poster, the scenographic poster, the animated poster, the interactive poster, the intelligent poster, the individualised poster. Students and teachers from the master's degree programmes in Communication, Media, Sound and Interaction Design as well as Exhibition Design at FH JOANNEUM Graz worked for a semester in interdisciplinary settings in several workshops. The results can be seen in the exhibition.
Opening
Wed, 21 September, 7.15 pm
in the context of the joint opening of "Art of Seduction"
Duration & opening hours:
22 September – 23 December 2022
Tue-Sat, 1pm – 6pm
The Art of Seduction
6 exhibitions on graphic design in the field of tension between art and advertising
Graphic design and the media associated with and influenced by it, such as the poster, have changed and decisively shaped the communications landscape over the last 100 years. Parallel to this, different currents of visual art and graphic design have emerged, the development of which is still ongoing today. This broad spectrum of "graphic design" – a term that first appeared in 1922 – is the focus of six exhibitions involving eight institutions from the fields of culture, science and business.
A joint project on the occasion of 100 years of GRAPHIC DESIGN by
• Kunsthaus Graz
• Graz Museum
• Kulturzentrum Minoriten
• Haus der Architektur
• Institut für Design und Kommunikationder FH JOANNEUM Graz
• FG Werbung & Marktkommunikation der WK Steiermark
• Ankünder
Coordinated by Creative Industries Styria in the context of the styrian autumn '22