designforum Steiermark
SUREAL. SUSTAINABLE RESPONSIVE ART LAB
08.05.2021 – 28.05.2021
Graz, Österreich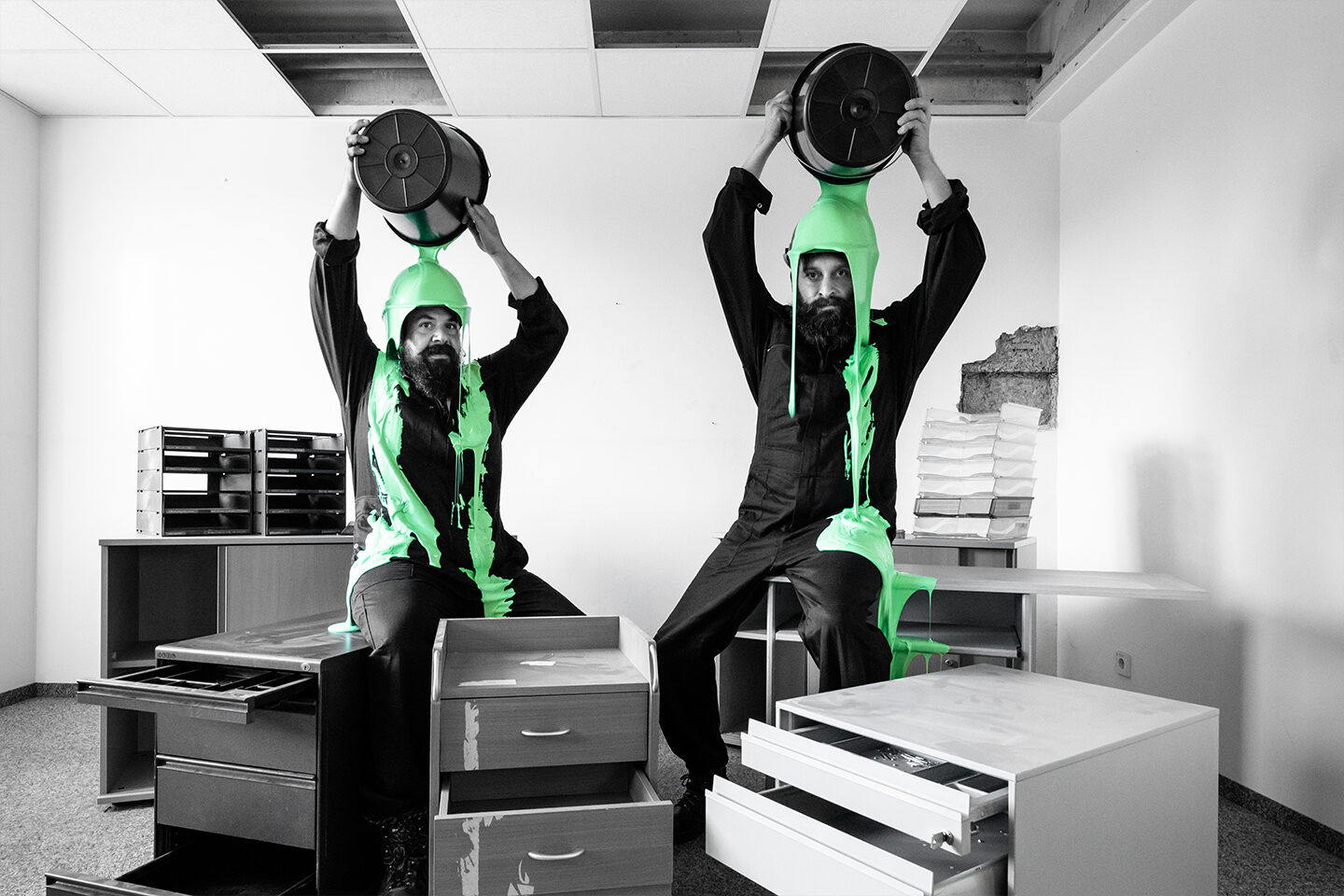 In the exhibition SUREAL. Sustainable Responsive Art Lab, the SelfSightSeeing Company is presenting its innovative designs for the new Merkur Campus, the international headquarters of Merkur Versicherungs AG in Graz, as part of the Design Month Graz 2021. There, the SelfSightSeeing Company designed over 10,000 square meters of office and conference space, a customer center, the lobby with a café, 20 think tanks, terrace areas and a fitness studio with boutique & spa areas in the sport-historical context of Merkur Versicherung.
Using selected design examples, the exhibition demonstrates the approach of the artist duo to such Kunst- & Unternehmens Kooperationen (KUK, art & company collaborations) and conveys to visitors how an interplay of business, art, architecture and people works in the context of sustainable thought and creative processes. The implementation of the design ideas was determined by the concept of sustainability, i.e. sustainable furniture production using used office furniture, with historic doors, former Air Berlin trolleys and antiques. In a participatory process – i.e. in joint workshops with more than 500 employees of Merkur Versicherung – 20 think tanks (small meeting & retreat rooms) and eleven social rooms were designed individually according to the needs of the various departments. A very unusual collaboration between a corporation and two artists on an extraordinarily large scale! The artist duo behind the SelfSightSeeing Company Itshe Petz & Io Tondolo develop sustainable and innovative spatial concepts as well as performative interventions for art festivals, cultural institutions and companies.
Together, the designers Itshe & Io create a continuous, humorous performance on the stage of everyday life through their uniformed self-dramatization.
SUREAL. is supported by Merkur Versicherung AG, String Furniture, Molto Luce, Gartenzentrum Edler, Architects Paper ® a brand of A.S. Création Tapeten AG, de Sede, Wilfling Reklamebau, Baumgartner Tischlerwerkstatt GmbH, Tischlerwerkstätte Ulrich OG, Powoden GmbH, pro mente steiermark GmbH, Prödl Workshop / Fantin, thedetail.studio, Eternit Österreich GmbH, Von K / Julia Klinger, Jorj Konstantinov Photography, uva.
EXHIBITION
SUREAL. Sustainable Responsive Art Lab by SelfSightSeeing Company
May 8 – 28, 2021
designforum Steiermark | Andreas-Hofer-Platz 17, 8010 Graz
Opening
Friday, May 8, 2020; 6.00 pm
Opening times
Tue-Sun, 10.00–19.00 pm