designforum Steiermark
Kontrast trifft Kreativität trifft Wort trifft Warten
11.01.2019
Graz, Österreich
Daniel Stuhlpfarrer, graduate of the degree program Information Design at FH JOANNEUM, presents his books 'Kontrast trifft Kreativität (Contrast Meets Creativity)' and 'Wort trifft Warten (Word Meets Waiting)' at an event organised by the Institute for Design & Communication in cooperation with CIS and designforum Steiermark.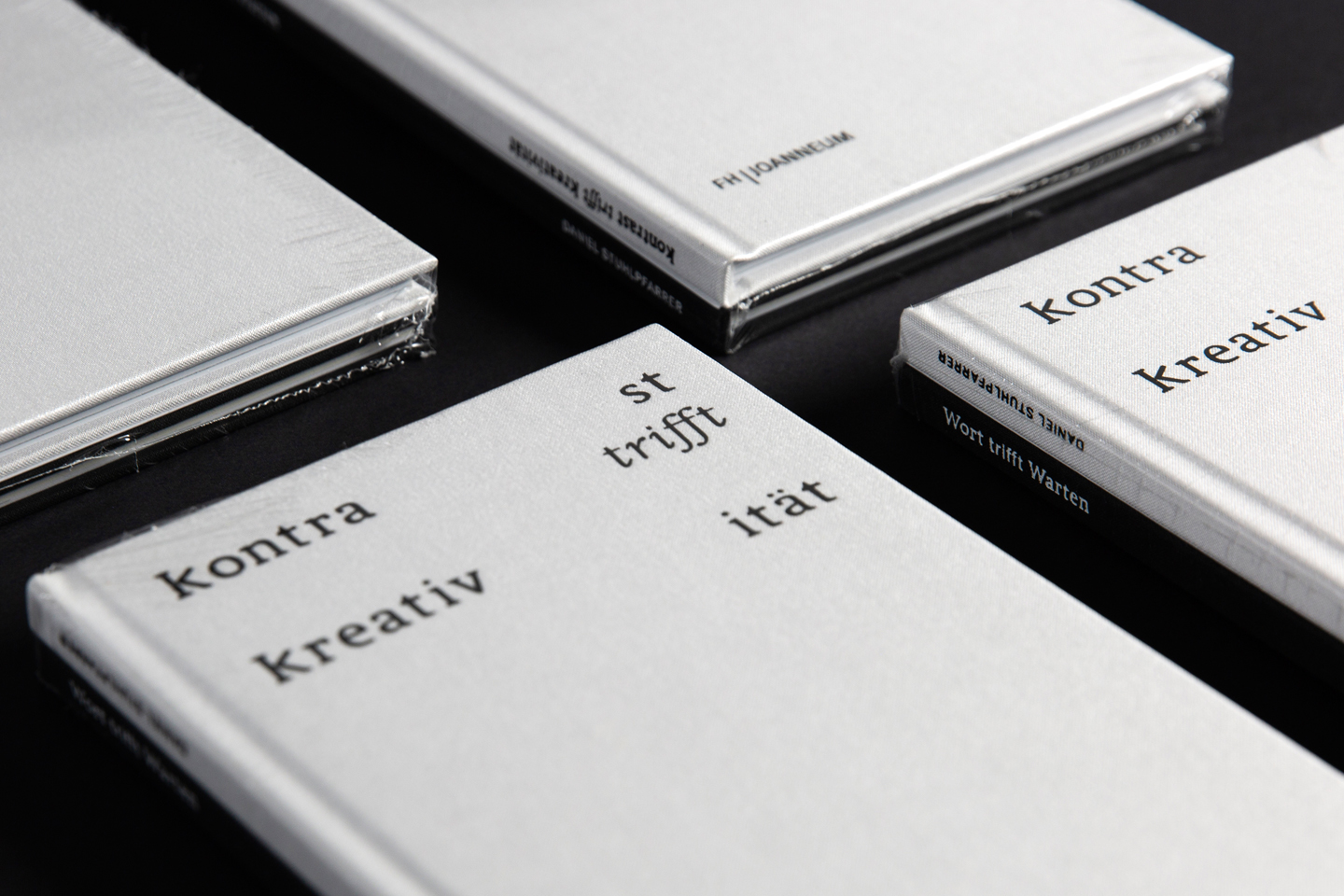 A meeting is an encounter, a get-together, a coffee break or a gathering (cf. Duden/German dictionary). 'Kontrast trifft Kreativität trifft Wort trifft Warten' Contrast Meets Creativity Meets Word Meets Waiting) is a two-volume book dealing with the encounter of contrast, creativity and design. Divided into a theoretical and a practical part, design meets contrast, contrast meets creativity and creativity meets two books.
The first book 'Kontrast trifft Kreativität (Contrast Meets Creativity)' explores the nature of contrasts, where and how they arise and how they are applied in design. The book is a guide for creative professionals aiming at using the means of contrasts to trigger creativity. It illustrates and explains different forms of contrasts documented by various examples.
The second book visualizes the application of contrasts by portraying the philosophical confrontation of a young designer with his previous life and his upcoming goals. The integrated topic of the act of waiting plays an essential role in the content-related and creative work of 'Wort trifft Warten (Word Meets Waiting)'. The author describes contrasts that he experienced himself through depicting him climbing the Kilimanjaro in Tanzania, coping with cultural differences and reaching his own physical limits. Due to the use of creative and stylistic contrasts, the work transcends the boundaries of conventional book design.
We talk about the definition of contrasts and how we can use them in our daily lives to trigger creativity. How can we improve our skills as designers through contrasts? How can we use contrasts to approach our work even more creatively and to create suspense? Is creativity based on contrast?
Daniel Stuhlpfarrer
After his education as an information technician and receiving a bachelor's degree in Information Design at FH JOANNEUM Graz, Daniel now lives and works in Berlin. The designer has specialized in graphic design with a focus on typography and book design. In addition to his work as a graphic designer, Daniel attends the master's program in Visual Communication, the graphic design course of Fons Hickmann, at Berlin University of the Arts.
designforum Steiermark 
| Andreas-Hofer-Platz 17, 8010 Graz
Book presentation 'Kontrast trifft Kreativität trifft Wort trifft Warten' (Contrast Meets Creativity Meets Word Meets Waiting)
January 11, 2019, 18.00