Design Transfer
Austrian Design Talks at Schloss Hollenegg
28.06.2022 – 29.06.2022
Hollenegg, Österreich
Design as a success factor: why good design is more than innovation and aesthetics. The Austrian Design Talks at Schloss Hollenegg for Design on 28 and 29 June show how successful cooperation between design and business works.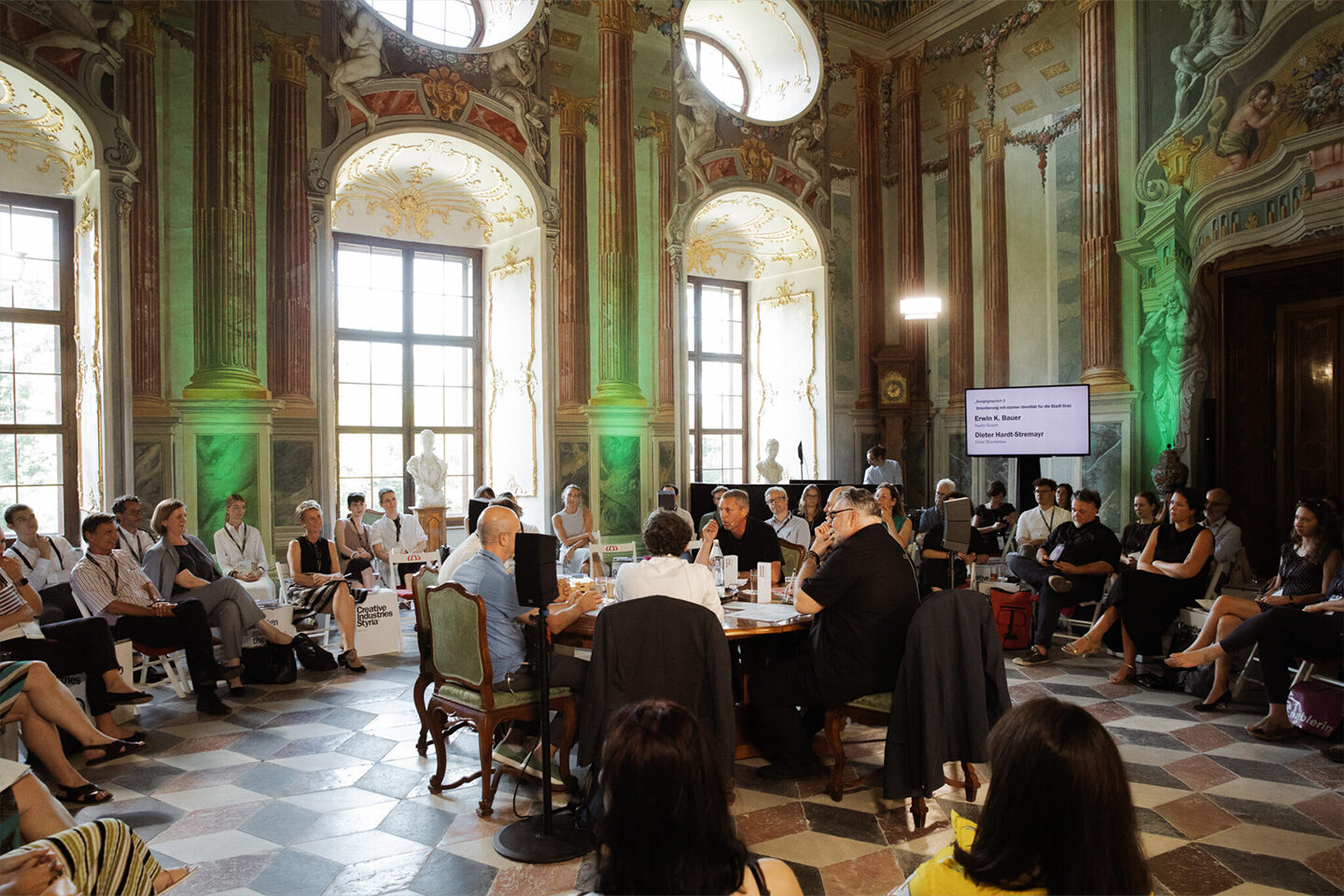 The Austrian Design Talks at Hollenegg Castle present ten successful partnerships between design and classical business. Using best-practice examples, they show what contribution design makes to success, how the development process works and how companies benefit from design. In the stylish ambience of Schloss Hollenegg, in the heart of the Styrian Schilcherland, two days are dedicated to cooperation and exchange between design and business from all over Austria.
The talks take a look at the people and companies behind the products and services, tell their story and provide insights into the creative process. The range of products and services in the two-day programme spans from furniture development to vehicles and medical equipment to guidance systems and interior design. As diverse as the design process is – it is decisive for success.
You can purchase your tickets here. The Boutiquehotel Zeitwert offers an overnight stay. With the booking code Design15 you save 15%. Participation in day 1 costs 90€, day 2 also costs 90€. Both days together cost 150€. Participation is free for Full Members and Premium Members of Creative Industries Styria as well as members of Holzcluster Steiermark, designaustria, WEI SRAUM.Designforum Tirol, CampusVäre and Schloss Hollenegg for Design.
Programme
Dienstag, 28. Juni 2022
13.00 get together
14.00 Welcoming and Opening
Alice Stori Liechtenstein (Schloß Hollenegg for Design),
Eberhard Schrempf (Creative Industries Styria)
Severin Filek (designaustria)
Christian Tippelreither (Holzcluster Steiermark)
Nicola Weber (WEI SRAUM.Designforum Tirol)
Bettina Steindl (CampusVäre)
Moderation: Eberhard Schrempf (Creative Industries Styria)
#1 | Quismo – An end to old patterns
Petrus Gartler und Thomas Perz (PERZ+GARTLER) & David Eibel (quismo)
hosted by Creative Industries Styria
#2 | Re-Design of a Regiobus fleet in Tyrol
Klaus Mayr, Circus. Büro für Kommunikation und Gestaltung & Birgit Schmoltner, Verkehrsverbund Tirol
hosted by WEI SRAUM Designforum Tirol
#3 | Ecological lightweight construction at BMW Group
Stefan Könsgen (BMW Group) & Wolfgang Knöbel (Weitzer Woodsolutions)
hosted by Holzcluster Steiermark
#4 | Lavazza – A perfect blend of design and engineering
Florian Seidl & Valerio Vaccarono
hosted by designaustria
#5 | Vöslauer: One box – several ways
Sofia Podreka und Kathrin Radanitsch (Dottings Industrial Design) & Magda Pichler (Vöslauer Mineralwasser)
hosted by Schloß Hollenegg for Design
18.30 Networking Event / Dinner
Mittwoch, 29. Juni
10.00 – 12.00 Creative Breakfast
Boutiquehotel Das Zeitwert, Hollenegg 10, 8530 Hollenegg
13.30 get together
14.00 Welcoming
Moderation: Eberhard Schrempf (Creative Industries Styria)
#6
 | JOKA: Crafted Collection
Christoph March und Marek Gut (MARCH GUT) & Anna Kapsamer-Fellner (JOKA)
hosted by designaustria
#7 | Orientation system for a cemetery in Linz
Veronika Egger (is-design) & Christel Helene Schmidt (werkrausch) & Clemens Frauscher (St. Barbara Gottesackerstifung)
hosted by designaustria
#8 | breathe ilo
Georg Wanker Industrial Design & Wernhard Berger (breathe ilo)
hosted by Creative Industries Styria
#9 | (Creative-)Workshops of the future in Dornbirn
Nora Heinzle (NONA Architektinnen) & Stefan Hagen (Hagen Management)
hosted by CampusVäre
#10 | cogvisAI 3D: Smart sensor for fall prevention
Christian Stanek (CONVOIDESIGN) & Rainer Planic (cogvis)
hosted by designaustria
18.00 stay together