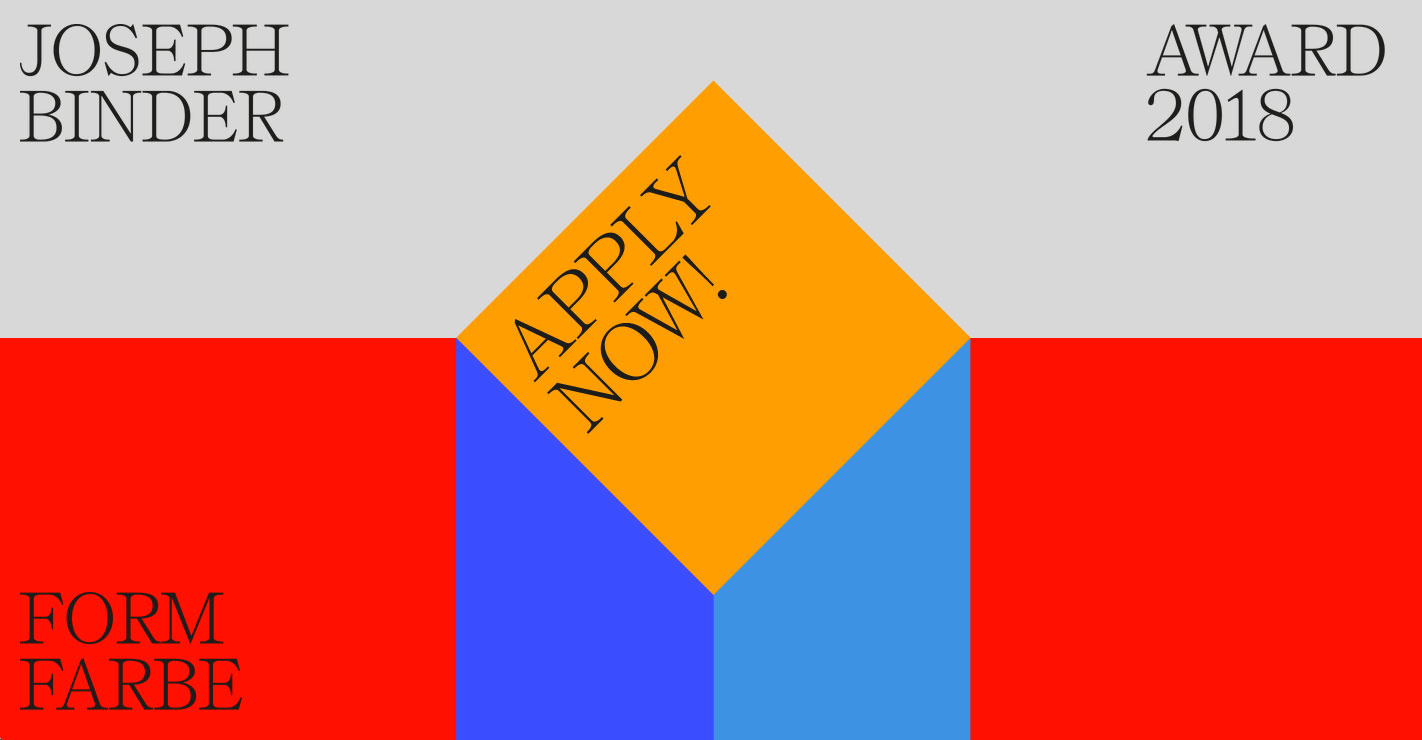 The theme of the Joseph Binder Award 2018 is "Colour and Form are inseperable". Participation is open to graphic design­ers, illustrators, advertising agencies and to design students from all over the world. They may enter projects in the  elds of graphic design and illustration published or realised in 2016 and after. The number of entries is not limited.
The Austrian designer Joseph Binder had a cru­ cial impact on commercial art in Europe and the United States. His motto was: "Everything in design has a function. Design has a visual function. Design has a communicational func­ tion. Design has a motivational function."
Joseph Binder found answers to questions regarding the contemporary spirit and its philo­ sophy, the sources of inspiration, and the role to be played by the modern designer in the reduced and impressive visual language of his graphic design and, later on, of his abstract art.
Today, in a new millennium, Joseph Binder's principles have lost nothing of their relevance. Commercial art seems to ramify into countless special disciplines, and yet the rapid expansion of possibilities provokes once again an inter­ disciplinary approach to design. Joseph Binder, too, was simultaneously an all­rounder and
a specialist.
Categories:
A GRAPHIC DESIGN
– Corporate Design
– Communiaction Design
– Information Design
– Type Design
– Poster Design
– Editorial Design
– Packaging Design
– Screen Design
B ILLUSTRATION
– Bokk Illustration
– Media Illustration
– Commercial Illustration
– Illustration in Miscellaneous Applications
C DESIGN FICTION
– Special Category: Illustrations for diverse communication media, animations, game design, storyboards, etc.
Prizes:
In each category, a Joseph Binder Award in gold, silver, and bronze will be awarded in the form of trophies: the ball of crumpled paper encased in glass is a symbol for the creative process.
In order to support independent, conceptual, scientific, and non-commercial activities in the fields of graphic design and illustration, cash prizes will be awarded in the Design Fiction category in addition to the trophies:
First prize: 2,500 euros
Second prize: 2,000 euros
Third prize: 1,500 euros
Additionally, the jury may choose up to five Merit Awards per category. Furthermore, the international ico-D Excellence Award will honour a project displaying outstanding design merits.
All of the entries selected by the jury will be published in a catalogue. The jury may withhold or reallocate awards and money prizes. All entrants will be notified of the results after both jury processes (May and June 2018).
All information and details about the call can be downloaded here.
Early bird registration until 28th February 2018
Regular registration deadline: 15th April 2018
Award ceremony: November 2018
Contact:
designaustria
MQ/Museumsplatz 1, Hof 7
1070 Vienna, Austria
+43 1 524 49 49­25
jba@designaustria.at
www.designaustria.at